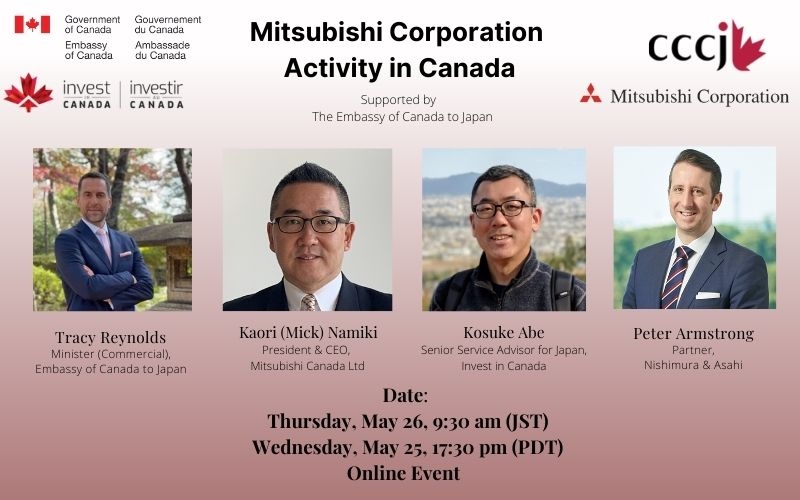 Mitsubishi Corporation-Activity in Canada
Mitsubishi Corporation - Activity in Canada
Time: Thursday, May 26, at 9:30AM (JST)/ Wednesday, May 25 at 17:30 (PDT)
Format: On-line
Language: English with simultaneous translation to Japanese
The business relationship between Canada and Japan is strong and growing. The economic makeup of our two countries are very complementary, with a tremendous amount of opportunity yet to be realized. Japan is the largest source of FDI into Canada from Asia, and is a major offtaker of our goods and services. Much of this trade and investment activity is driven by Japanese trading houses.
Please join us on May 25 PST/May 26 JST to hear from Kaori (Mick) Namiki, President & CEO of Mitsubishi Canada as he introduces Mitsubishi Corporation's broad activities across Canada. Following Namiki-san, we will be joined by Kosuke Abe from Invest in Canada to provide an overview on the investment landscape in Canada and opportunities for Japanese involvement therein.
Opening Remarks: Tracy Reynolds, Minister (Commercial), Embassy of Canada to Japan
Keynote: Kaori (Mick) Namiki, President & CEO, Mitsubishi Canada Ltd "Introducing Mitsubishi's Engagement in Canada"
Presentation: Kosuke Abe, Invest in Canada,  "Invest in Canada Landscape"
Moderator: Peter Armstrong, Partner, Nishimura & Asahi
[Speaker's Bio]
Kaori (Mick) Namiki, President and Chief Executive Officer, Mitsubishi Canada Ltd. (Japan)
Kaori (Mick) Namiki is the President and Chief Executive Officer of Mitsubishi Canada Ltd., a Canadian operation of Mitsubishi Corporation, Japan's largest integrated business enterprise. Mitsubishi Corporation operates businesses together with over 200 bases of operations in approximately 90 countries worldwide, as well as a global network of around 1,700 group companies.
Under Mick's leadership, Mitsubishi's Canadian operation continues to develop and promote traditional and new businesses for Canada and Japan, focusing on the areas such as Energy/Natural Resources (LNG, Hydrogen/Ammonia/CCS and Iron Ore, etc.) and innovation (cultivation of startups and new technologies).
Mick graduated from Waseda University in Tokyo with a Bachelor of Economics in 1991, and started his career at Mitsubishi Corporation. He has been engaged in trading and investment mainly in the mineral resources sector during his career of over 30 years and stationed in Shanghai (China) from 1999 to 2006, and Jakarta (Indonesia) from 2017 to 2020, in addition to Tokyo and Nagoya (Japan), before arriving in Canada in June 2020.
Mick currently serves on the Boards of Directors of Japanese Business Association of Vancouver (Konwakai) and Nikkei National Museum & Cultural Centre, and a member of the Asia Business Leaders Advisory Council (ABLAC) comprises a high-level group of Asian and Canadian business leaders convened annually by the Asia Pacific Foundation of Canada to identify and articulate opportunities for improved Canada-Asia business engagement.
Mick speaks Japanese and English, and conversational Chinese (Mandarin) and Bahasa Indonesia. He currently lives in Vancouver with his wife.
Tracy Reynolds, Minister (Commercial), Embassy of Canada to Japan
Tracy joined the Foreign Service in 1996 and has served abroad in Russia, Syria, Malaysia, and Indonesia. In Ottawa his most recent positions have been Executive Director of the Multi- Industry Sectors Division, acting Director General Investment and Innovation, and Director of the Investor Services Division. He has also worked at the Privy Council Office in support of the Prime Minister's efforts to strengthen foreign direct investment promotion. Tracy has a B.A. in International Studies and a M.A. in History from the University of Saskatchewan. He served for six years in the Canadian Armed Forces (Reserves) in the North Saskatchewan Regiment (mechanized infantry). He and his wife Tavia have three children.
Kosuke Abe, Senior Service Advisor for Japan, Invest in Canada
As Senior Service Advisor for Japan, Investor Services, Mr. Abe is responsible for providing bespoke services for new investors from Japan to Canada, as well as for Japanese investors who are considering expanding their existing business across Canada. Prior to joining Invest in Canada, Mr. Abe had spent 15 years with BlackBerry QNX, a leading embedded software company in Ottawa, where he held positions in sales and marketing to support automotive and general embedded customers, and distributors in Japan, United States, India, Australia, South Korea and South America.  He also managed regional conferences and tradeshows in Japan, South Korea and China. Mr. Abe works closely with Canadian trade commissioners in Japan, the Japanese Embassy in Canada, trade organizations such as JETRO, as well as municipal and provincial investment promotion agencies across Canada. Mr. Abe holds his Bachelor of Arts in the English language, as well as Master of Arts in Intercultural Communication.
Peter Armstrong, Partner, Nishimura & Asahi
Peter advises both Japanese and global entities on a wide range of complex cross-border transactions and projects, including mergers and acquisitions, joint ventures and foreign investment in various industries. He is one of the leaders of the firm's Canada Practice Group and has extensive experience advising on Japan-Canada matters.  He is highly lauded by clients and peers alike for his responsiveness and ability to balance the needs of his clients with astute commercial considerations.
[Program]
9:30/17:30 Housekeeping and Welcome guests by David Anderson, Chair, CCCJ
9:35/17:35 Remarks by Tracy Reynolds
9:40/17:40 Presentation by Kaori (Mick) Namiki
10:00/18:00 Presentation by Kosuke Abe
10:15/18:15 Q&A Session
10:30/18:30 Closing Remarks
The zoom link to be sent to the registered participants a day before the event day.
Event Details
May 26 (Thu)


Registration Closed
09:30 ~ 10:30
Members--Free, Non Members--Free
Registration is Closed