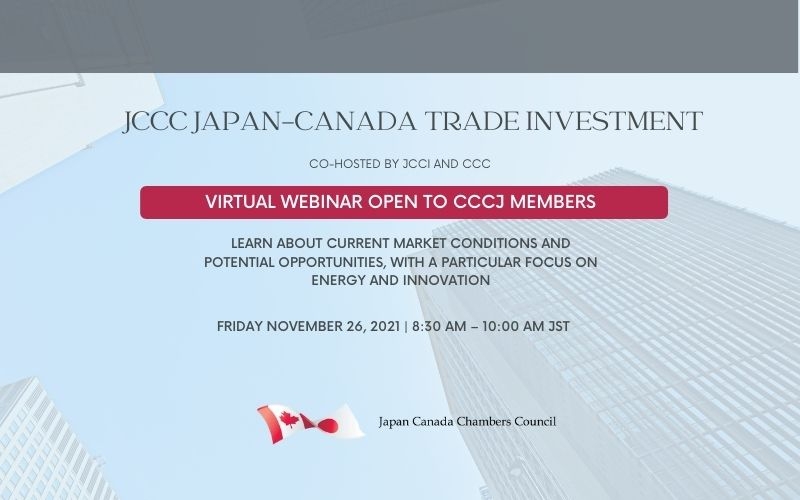 Japan-Canada Trade and Investment
CCCJ members are cordially invited to Japan-Canada Trade and Ivestment seminar!
The Japan-Canada Chambers Council (JCCC) is a joint initiative of the Canadian Chamber of Commerce and the Japan Chamber of Commerce and Industry. The JCCC focuses on enhancing commercial relationships between our respective business communities.
This year's event will allow Canadian companies to learn about current market conditions and potential opportunities, with a particular focus on energy and innovation. The discussions at this meeting will also inform subsequent government-to-government discussions.
Confirmed speakers include:
Tatsuo Yasunaga, Representative Director, Chairman of the Board of Directors, Mitsui & Co, Ltd.
Hon. Perrin Beatty, PC, OC, President and CEO, Canadian Chamber of Commerce
Ian McKay, Ambassador of Canada to Japan
Yasuhisa Kawamura, Ambassador of Japan to Canada
Tabatha Laverty, Director Marketing and Communications, Accelerator Centre
Hiroki Haba, Division COO, Next-Generation Fuels & Petroleum Business Division, Mitsubishi Corporation
Taskeshi Saito, Executive Director, JETRO Toronto
Dan Woznow, Senior Vice President External Relations, AltaGas
Moderated by Annamarie Sasagawa, Vice Chair, Canadian Chamber of Commerce in Japan
After confirming your registration, the Office will send you a sign-up information.
Event Details
November 26 (Fri)


Registration Closed
08:30 ~ 10:00
This event is open to CCCJ Members
Registration is Closed