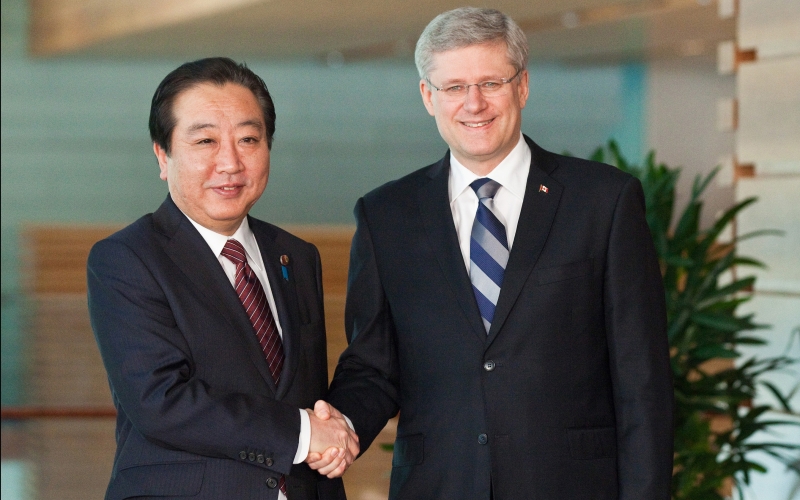 Conversations toward a Canada/Japan EPA
The Canadian Chamber of Commerce in Japan (CCCJ), with the support of the Keidanren and the Canadian Chamber of Commerce (CCC), invite you to a high-level symposium on November 2nd regarding the proposed Canada-Japan Economic Partnership Agreement (EPA). The symposium is honoured to have the support of the Embassy of Canada to Japan, the Ministry of Foreign Affairs of Japan (MOFA) and the Ministry of Economy, Trade and Industry of Japan (METI).
The symposium will feature keynote presentations from the Honourable Perrin Beatty, President & CEO of the Canadian Chamber of Commerce, and Yorizumi Watanabe, Professor, International Political Economy, Keio University. Panelists will include representatives from the Canadian Federation of Agriculture, Japan's Central Union of Agricultural Co-operatives (JA-Zenchu), Canada Wood Group, National Federation on Forest Owners Cooperative Association, Automotive Parts Manufacturers' Association, and Japan Automobile Manufacturers' Association(JAMA). 
For the Program Outline, please view the attachment here.  
在日カナダ商工会議所(CCCJ)は11月2日に、カナダ商工会議所(CCC)と日本経済団体連合会(経団連)の協力のもと日加経済連携協定(EPA)に関するシンポジウムを開催いたします。本シンポジウムは在日カナダ大使館、外務省、経済産業省の後援のもと、日加両国から著名な関係者をお招きし、実りあるEPA合意へ向けての課題や戦略についてお話しいただきます。
基調講演者として元カナダ連邦政府閣僚・現カナダ商工会議所会頭ペリン・ビーティー氏および代表的な自由貿易推進論者であり、慶應義塾大学教授(国際政治経済論)を務める渡邊頼純氏をお迎えいたします。またパネルディスカッションでは、カナダ農業者連盟、全国農業協同組合中央会(JA全中)、カナダウッドグループ、全国森林組合連合会、自動車部品製造業者協会(カナダ)、日本自動車工業会(JAMA)等からパネリストをお招きし交渉に影響を与える事柄についてディスカッションを行っていただきます。また質疑応答の時間も設けています。
プログラムについてはこちらをご覧ください。
Event Details
November 02 (Fri)


Registration Closed
04:00 ~ 11:30
TMI Associates, 22nd Floor
TMI Associates Roppongi Hills Mori Tower 6-10-1 Roppongi Minato-ku Tokyo 106-6123
6,000 yen for Members
Registration is Closed