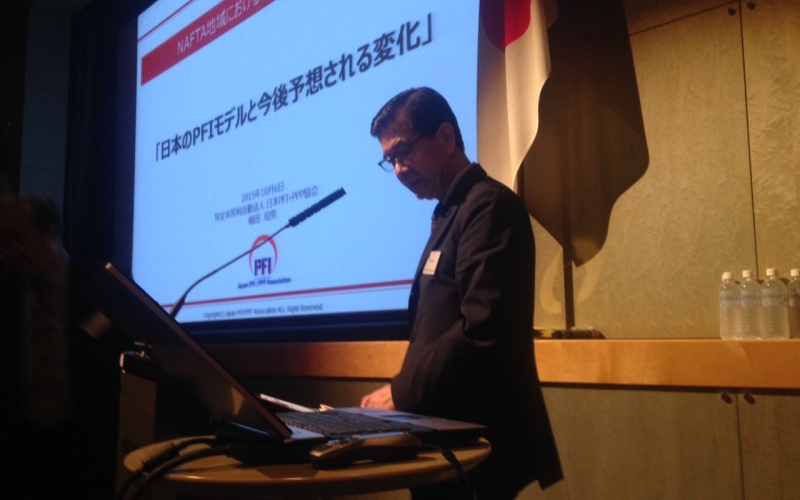 [Event Report] 2015 P3 Update
"2015 North American Free Trade Agreement ("NAFTA")/Pacific Regional Public Private Partnership 'P3' Update"
On October 6th, 2015, the Embassies of Canada, Mexico and the United States, in partnership with the Canadian Chamber of Commerce, hosted a conference on P3 Opportunities in the NAFTA Region. At this conference, P3 experts from both the public and private sectors discuss the current state of Public-Private Partnerships ("P3s") in Japan, North America (Canada, the U.S. and Mexico) and Asia, and the opportunities and challenges these present to investors.
CCCJ Chairman Emeritus, Mr. Wilf Wakely, started the program with an overview of P3 and its benefits for Japanese Investors in the North American market. His presentation covered the global need for infrastructure funding highlighting the fact that governments will not be able to meet these funding needs from their treasuries. Mr. Wakely suggested that public private partnerships may well become the primary finance tool to maintain and build infrastructure. 
Kazuo Ueda, Chairman of the Japan PFI/PPP Association followed with a presentation on the current and future usages of P3 including some examples of expanding its application to match the surge in tourism in this country accompanying the 2019 Rugby World Cup and the 2020 Olympics.
The daylong conference was then divided into three different thematic streams: P3 Opportunities in North America; Experiences in Investing in P3; and Experiences from Asia. CCCJ member companies, TORYS LLP, Bull Houser Tupper LLP (BHT), and Currie & Brown, were important fixtures in the event program. -  Link to 2015 'P3' Update program 
Jay LeMoine, a partner with Bull Housser & Tupper LLP in Vancouver, made a  presentation entitled, "Accessing the Canadian P3 Market." Drawing on Bull Housser's extensive work on Canadian P3 projects, Mr. LeMoine explained how Canada, in less than a decade, became one of the world leaders in delivering public infrastructure through public private partnerships.  This included the formation of strong public agencies specializing in P3 project procurement, stable government and financial markets providing investor confidence and the delivery of successful projects (on time and on budget). 
From very few Canadian P3s prior to 2000, in 2015 there are now more than 240 projects in procurement or completed in Canada.  Many more are on the horizon.  The newly elected federal government has also committed to continue spending on infrastructure projects across sectors in attempt to rectify Canada's significant and growing infrastructure deficit.  It is expected that the P3 model will feature prominently in public procurement strategies including in procurements for highways, bridges, rapid transit, hospitals, water and waste water treatment, among others. 
The Canadian P3 market has attracted an international community of investors, designers, contractors, operators and lenders.  Mr. LeMoine concluded that, opportunities in Canada will likely be of interest to Japan's infrastructure companies and investors who are looking for a stable and secure place to export the knowledge and expertise. [EN] [JP]
Scott Kraag, a Project Finance and P3 partner at Torys LLP presented on the expanding world of overseas P3. The presentation focused on new opportunities for Japanese Investors and other participants such as construction companies and technology providers in Canada and the US.  In particular, Mr. Kraag encouraged Japanese companies that might wish to export their expertise and know-how on infrastructure projects to North America to form a project consortium and directly bid for work in the Canadian provinces that currently have P3 Requests for Proposals in the market.  In this context, Mr. Kraag gave specific details on the growth opportunities in Canada (210 projects valued at $65 Billion in the pipeline during the next 10 years) and the US (where US civil infrastructure requirements exceed $1.6 Trillion).  After presenting on the lifecycle of a typical P3 transaction, Mr. Kraag identified the top P3 market factors including a shift in Canada from availability projects to user-pay projects and a move to new market sectors such as transit, heavy civil works like bridges and tunnels, water/waste-water and broadband transactions.  [EN] 
Mr. Miguel Donovan, Director at Currie & Brown Mexico, presented on the evolution of Public Private Partnerships in Mexico – one of Latin America's most developed markets for P3s. Mexico, which ranks fourth in Infrascope's ranking of the environment for public-private partnerships in Latin America and the Caribbean, has since 2002, implemented P3s for investment in various asset types at both national and subnational levels. The breakdown of these projects is as follows: 56% roads, 13% hospitals, 8% lighting, 6% office buildings, 6% universities, museums and cultural centers, and 10% left to other types of projects. Mr. Donovan explained that over the next three years, the Mexican Federal government is planning to invest US$104.6 million in road infrastructure, and US$591.9 million in health infrastructure. [EN]
The event was well attended, with a guest list of close to 200 participants representing both Japanese government agencies and private institutional investors such as pension funds, banks and trust banks and other financial institutions and other corporate investors.  An example of some of the participating entities: the Japan External Trade Organization (JETRO), the Ministry of Land, Infrastructure, Transport and Tourism's Japan Overseas Infrastructure Investment Corporation for Transport & Urban Development (JOIN); The Bank of Tokyo-Mitsubishi UFJ; Mitsubishi Corporation; Japan Alternative Investment Co., Ltd.; Sumitomo Mitsui Trust Bank, Ltd.; Marubeni Corporation; Sumitomo Corporation; ORIX Corporation; Toyota Tsusho Corporation; JALUX Inc.; Kajima Corporation; West Nippon Expressway Company Limited;  Tokyu Corporation; IHI Corporation; and Mizuho Bank. Our Chamber would like to extend a special thanks to all attendees.
In supplement to the October 6th conference, two days later, the CCCJ hosted a follow-up Q&A Session with many of the experts listed on the 2015 P3 Update program. At this session, Mr. Sashen P. Guneratna Managing Director, Infrastructure and Project Finance at PwC Canada presented on the Canadian P3 Landscape, starting with a look back to the 1990s when P3s were first explored in the 1990s by Canadian provincial governments following the lead of UK, Europe and Australia. Mr. Guneratna also explained that the current landscape features fierce competition for projects among both contractors and sponsors, many of whom are using Canadian experience and resources to pursue projects in the US, and that in the short and medium term a shift is anticipated towards water and wastewater projects along with a handful of power mandates.
Again, on behalf of the chamber, a special thanks to each of the presenters for making helping to make this conference a success.
***
THEME 1 - Introductory Remarks and Overview of P3 and PFI
THEME 2 – P3 Opportunities in North America
THEME 3 – Experiences in Investing in P3
THEME 4 – Experiences from Asia
***
Please take a minute and download our digital app, The Canadian and like us on our Youtube, LinkedIn, Facebook and Twitter accounts