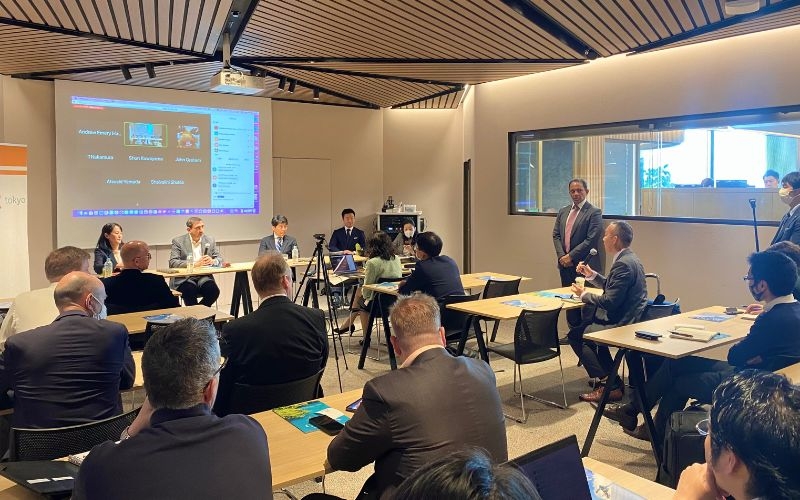 On Friday, April 14th, the CCCJ Market Access Advisory Committee (MAAC), chaired by Mr. Shailesh Shukla, ICD.D,MBA,BE, hosted its inaugural MAAC Forum at CIC Tokyo. Having Mr. Ichita Yamamoto, Governor of Gunma Prefecture, and Ms. Fujiko Amano, Director for Investment Collaboration at the Ministry of Economy, Trade and Industry (METI), as speakers, over 40 in-person and online participants joined to hear the latest information from the national and local governments on its initiatives to attract foreign investment in Japan. 
Mr. Shailesh Shukla led his speech by introducing the members of the Market Access Advisory Committee and how each of them plays an important role for providing connections and guidance on matters relevant for Market Access & Expansion in Japan and Canada. He expressed his gratitude for being able to host its first MAAC business forum and excitement for the continuous contribution it hopes to make to the CCCJ. 
Introduced by Mr. Shukla, Mr. Ichita Yamamoto gave an informative presentation on Gunma Prefecture, accompanied with Mr. Keiichi Uruga, Vice Governor of Gunma Prefecture. Mr. Yamamoto emphasized on why Gunma is becoming such an appealing prefecture for both individuals and businesses, including its abundant nature, famous hot spring resorts and outdoor recreational opportunities, Gunma's links with 2 Canadian cities, and its global ties with leading national and international corporations around the world. He concluded his speech about Gunma's diverse appeal and its advanced initiatives by welcoming each audience to visit and experience beautiful Gunma themselves. 
Ms. Fujiko Amano spoke on the initiatives of the Government of Japan for promoting FDI in Japan, which will lead to Japan's revitalization of local economies and societies. She also further explained how global organizations can play an active role through direct investment in Japan, and introduced new strategies and platforms to facilitate collaboration between Japanese and overseas companies. 
After the forum, participants had the chance to expand their network by exchanging business cards and speaking casually with the speakers. 
CCCJ would like to thank Mr. Shailesh Shukla, Mr. Ichita Yamamoto and Ms. Fujiko Amano for speaking at this event, and everyone for joining this forum. We look forward to seeing you all at our future events!