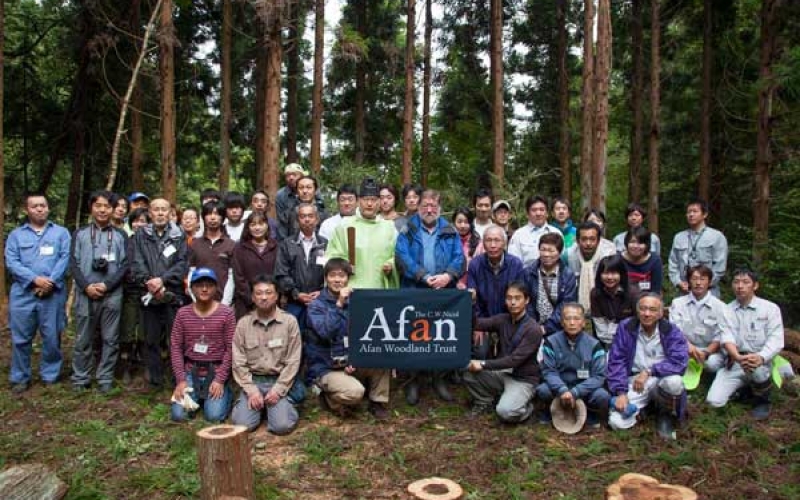 The Afan Woodland Trust Higashi Matsushima school project is one of four projects supported by the CCCJ's Tohoku Partnership Initiative.
All of these projects highlight the ongoing needs of the Tohoku area.
The CCCJ is committed to working with local organizations in a multiyear effort to rebuild the region. The Tohoku Initiative Committee invites all CCCJ members and friends of the Chamber to be part of this important initiative!
Click here admin [at] cccj.or.jp to contact the committee
------
At the grand gala dinner held by the CCCJ on February 17th. 2012, I had the opportunity to give a short presentation of what our woodland trust (The C.W.Nicol Afan Woodland Trust) is trying to do in the earthquake and tsunami devastated town of Higashi Matsushima. In the previous August we had invited people from that area, children, adults, old folk who had lost homes, friends, family and work places to come to our woods for three days of relaxation. At the time we had not expected that the town would ask us to help them relocate and rebuild a primary school in hilly, densely forested land in the Nobiru area of the town, the place worst hit.
Together with town officials, including the mayor and the local Board of Education, with strong support and backup from Miyagi University, various companies such as Aeon, Asahi Brewing Company, Sumitomo Forestry Co., Seihoku Co. (plywood and laminated wood) and many other companies, individuals and NGO's we came up with a plan not only to preserve the scenery and nature, but to enhance it, and to build a school in the forested hills, using principally forest products. As the chairman of the working committee I absolutely refuse to be involved in building the usual kind of construction, where the forest is cut down, the hill bulldozed, the valleys filled, and an ugly ferro-concrete box built.
It's been a long battle, and we've talked to everyone, holding meetings, discussions, planning sessions, symposiums, presentations and so on in Higashi Matsushima, Tokyo, Sendai and here in Nagano, involving town and prefectural officials, old folks, teachers, various experts and school children.
At last, on October 5th. 2012, we held a Shinto ground-breaking ceremony ('Ji-chin-sai') for the beginnings of our 'forest school'. After this ceremony our staff, supporters and local folk began the task of clearing brush and trimming trees.
We still have a long way to go but the commitment has been made. Many thanks to Wilf Wakely and to everybody else in CCCJ who have been concerned about our progress.
C.W.Nicol
Chairman
The C.W.Nicol Afan Woodland Trust
Nagano
Japan.