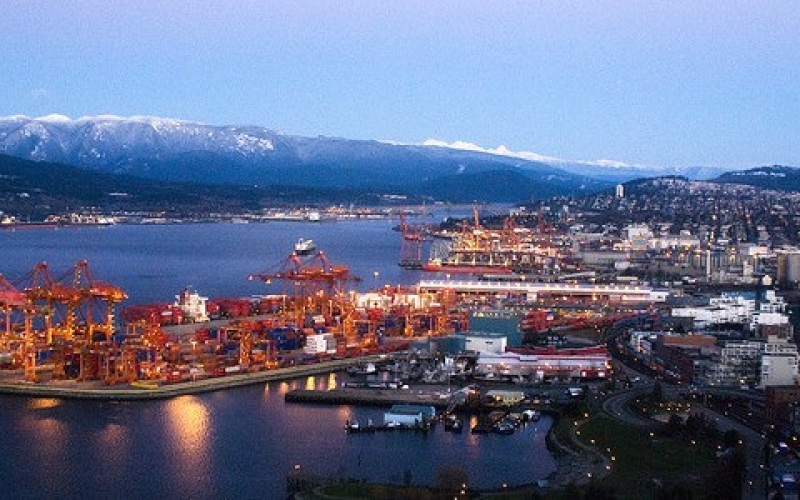 The Canadian - Trade Trends: Connecting Markets
The Canadian - Autumn 2015. Vol 15. Issue 02.
Trade Trends: Connecting Markets - Canada's Shipping Advantages
By Trevor Kennedy, M.A. candidate in Asia Pacific Policy Studies at the University of British Columbia. He writes on various policy-related issues in Northeast Asia on his blog, Asia Pacific Policy (asiapacificpolicy.wordpress.com). Follow him on Twitter: @TrevorPKennedy
Canadian container ports are some of the best situated in North America to connect to markets in Northeast Asia. In fact, ports on the Canadian west coast boast quicker shipping times to Japan and South Korea than ports on the west coast of the United States or Australia. While Halifax, in the east, is comparatively competitive to rival American ports on the eastern seaboard for Asia-bound cargo.
With the prospect of the Trans-Pacific Partnership (TPP) being finalized, and the continued negotiation of the Japan-Canada Economic Partnership Agreement (EPA), the future of an already healthy bilateral trade relationship between Japan and Canada looks promising. In 2014, exports to Japan totaled $10,738,870,459 and imports totaled $13,297,200,901. Canadian imports are mostly composed of value-added goods, such as, vehicles (34.41 per cent) and mechanical appliances (27.59 per cent). The country's exports vary between dry bulk (grains, 15.12 per cent), and value-added goods (pharmaceuticals 5.30 per cent). As Japan and Canada become preferred trade partners, with reduced tariffs and homogenized regulations, it's conceivable that the volume and value of cargo shipped between the two markets will increase. Luckily, Canadian ports are well prepared and well placed to deal with increased traffic between the trade partners.
VANCOUVER & PRINCE RUPERT
Vancouver is the shortest point of departure for Kobe, Nagoya, Yokohama and Tokyo among major cargo ports in North America. By virtue of Port Metro Vancouver's connectedness to Burlington Northern Santa Fe Corporation (BNSF), Canadian Pacific and CN's intermodal network (and its further connection to Class 1 rail networks in the U.S.) Vancouver is connected by rail to all major cities in the United States and Canada. Prince Rupert is a comparatively quick route to Tokyo, Nagoya, and Kobe, and is the quickest North American port to Busan via Hanjin Shipping. The coastal city is also connected to CN's nationwide freight network and Class 1 networks across the continent.
HALIFAX COMPARATIVE ADVANTAGE
The Port of Halifax is much further from northeast Asia than Canadian ports on the west coast. However, it is faster than many competitor ports in Europe and the American eastern seaboard to Asia. With APL, cargo from Halifax can reach Yokohama in 32 days, whereas the quickest route from Hamburg, Germany, takes 39 days. Further, Halifax is two days faster to Tokyo than Rotterdam, Netherlands, and two days faster to Singapore than Savannah, in the United States. As with ports in the West, Halifax is connected to CN's Canada-wide and Class 1 networks across the continent. Halifax is also connected to the Trans-Canada highway and by extension, highways in the United States.
SUEZ CANAL EXPANSION
On August 9, 2015, Egypt celebrated the expansion of the Suez Canal, allowing an increase from 78 ships a day to 97 a day. While some analysts are skeptical that the expansion will increase traffic, Egypt and shipping companies alike are hopeful that the expansion will increase the volume of east-west trade. Maersk Line — one of the shipping companies connecting Canada and Asia — is enthusiastic about the expansion. Maersk CEO Claus V. Hemmingsen said: "The extension will enable larger vessels to transit, benefiting not only the shipping companies, but also our partners and world trade as a whole." One clear benefit for shippers is the decrease of waiting times at the canal from 11 hours to three. The Port of Halifax may benefit from decreased congestion and shorter shipping times through the Suez Canal in between the Asia Pacific region.
PANAMA CANAL EXPANSION
The forthcoming Panama Canal expansion will greatly increase capacity of container ships traversing the canal. Current ships are limited to 5,000 twenty-foot equivalent units (TEU). When completed, the canal will more than double its current capacity, with a max limit of 13,000 TEU. Ships with such a large capacity are referred to as Post-Panamax. Currently, all three of Canada's major Asia-connected ports can accommodate Post-Panamax vessels. Shipping routes connecting the eastern and western seaboard of Canada will be able to increase their capacity, benefitting lines connected to Asia.
The Port of Halifax is already well positioned to benefit from the expansion, as its container facilities are equipped to service Post-Panamax vessels. Many of Halifax's competitors on the eastern seaboard have yet to complete updates allowing Post-Panamax ships. For example, under a proposal from the White House, the Port of Savannah (one of the busiest U.S. ports) is increasing the depth of its port from 13 metres to 14 metres; Halifax already boasts a depth of 17 metres. Canada's Pacific ports are likewise already prepared to service Post-Panamax vessels, both in terms of depth and equipment. Canada's three major Asia-connected ports have many reasons to be optimistic. Forthcoming trade agreements, better international transport infrastructure and larger, faster vessels will only decrease the cost and time it takes to ship from Canada and Asia. Japanese-Canadian trade, in particular, will further benefit due to geographic proximity and the two nations' increasingly symbiotic trade relationship.
Image source: Pentaboxes
***
The Canadian - Autumn 2015. Vol 15. Issue 02.
Download for Android devices via Google Play 
***
For iOS and Android devices - The Canadian is available for download through GPlus media's "Tokyo Insight" app on iTunes and Google Play stores. This means that to access the magazine in its app format, you must do the following:
Click on above link (for iOS or Android device), you will be directed respectively to your mobile device's iTunes App Store or Google Play store
Download the Tokyo Insight App
An image of The Canadian will come up, click download and subscribe
After downloading the app, the magazine will automatically open
Once you close the magazine, it can be again easily accessed through your mobile device's "Newsstore App"
***
Please take a minute and dowload our digital app, The Canadian and like us on our Youtube, LinkedIn, Facebook and Twitter accounts