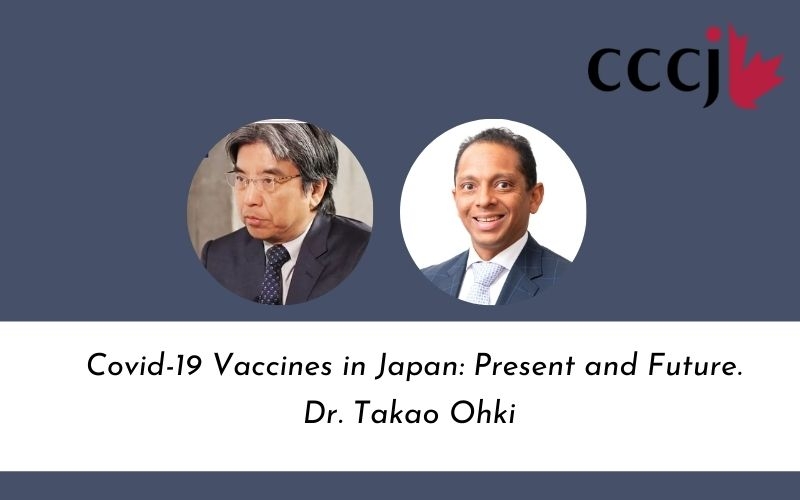 Zoom event - Covid-19 Vaccines in Japan: Present and Future - with Dr. Takao OhKi on June 22, 2021
CCCJ is pleased to welcome Dr. Takao Ohki, MD, PhD for a live webinar series on Covid-19 Vaccines in Japan: Present and Future.
With a number of countries making fast progress on rolling out Covid-19 vaccinations, the situation in Japan has drawn attention. Japan has one of the lowest rates of vaccine confidence in the world, and the comparatively slow start to its vaccination program raised concern among foreign residents. Dr. Takao Ohki, a respected Japanese medical doctor, will share his expert perspective on Covid-19 vaccination in Japan, present and future. 
Dr. Takao Ohki has been recognized as one of the Top 10 Best Physicians in the United States. He is a Professor and a Chief of the Department of Vascular Surgery at Jikei University School of Medicine in Tokyo, Japan.
This event will be moderated by CCCJ Governor Karl Pires.
-- The event will be conducted in English and off-the-record --
-- The event is a ZOOM event--
Bio
Takao Ohki, MD, PhD is the Chairman of Department of Surgery, Professor and Chief of the Division of Vascular Surgery at the Jikei University School of Medicine in Tokyo Japan.  He is also the Professor of Surgery at Albert Einstein College of Medicine in New York.
He has authored over 200 peer-reviewed articles in scientific journals, 3 text books, contributed chapters to over 40 books and holds several patents related to medical devices. Dr. Ohki was a member of Mirai-toshi kagi during Shizo Abe cabinet. Dr. Ohki is a member of the editorial board of 6 scientific journals including the Journal of Vascular Surgery, Journal of Endovascular Therapy and Annals of Vascular Surgery.  He is the Chief Editor for Endovascular Today.  He has served as the Chairman or Executive Committee Member of a number of medical symposiums and meetings.  Dr Ohki is currently the Chairman of Japan Endovascular Symposium and President of Japanese Society for Endovascular Therapy and the president of 123rd Japan surgical society which is the largest surgical society in the Japan. He is a board member of 7 different academic societies including the Japan Surgical Society, Japanese Society for Cardiovascular Surgery, Japanese Society for Vascular Surgery, International College of Angiology. Dr. Ohki has given over 500 invited and named lectures and performed invited surgery in 13 countries around the world. He is considered one of the pioneers of endovascular therapy for aortic aneurysms and peripheral arterial disease and was awarded the lifetime research achievement award from the International College of Angiology. He was featured in the NHK professional and numerous TV programs as well as nominated as Newsweek Japan's "Most respected Japanese", Bungeishunjyu "Nippon no Kao". Is considered the leader of "with Corona policy" in Japan and featured in various mass media including Asamade nama TV, and is active with Twitter and Youtube where he has gained 1.7 million viewers
Dr. Ohki graduated from the Jikei University School of Medicine, in Tokyo in 1987, where he received his MD and PhD. He completed internship and general surgery residency at the Jikei University Hospital in Tokyo, Japan.  In 1995, he moved to Montefiore Medical Center in New York, US, where he became the Chief of Endovascular Program in 1998 and Chief of Vascular Surgery in 2002 and Professor of Surgery, Albert Einstein College of Medicine in 2005. He has medical license in Japan and the US.
Karl Pire
Karl Pires is a Partner of the international law firm Shearman & Sterling LLP based in Tokyo.  He has also been an elected Governor of the CCCJ since 2013 and an adjunct professor at the Keio University Law School since 2014. 
A native British Columbian (born in Port Alberni and raised in Victoria), Karl first worked in Japan in 1990 at the ryokan Nisshinkan at Manza Onsen during his summer break when he was a student studying Japanese at the University of Victoria and altogether has spent 17 of the past 31 years living in Japan on five different occasions in five different prefectures (Gunma, Wakayama, Tokyo, Hyogo and Kanagawa). 
Since graduating from the University of Toronto Law School in 1998, where he received his Juris Doctor (JD), Karl has split his 23-year legal career as an international lawyer between Vancouver (9 years) and Tokyo (14 years).  He is admitted to the bars of British Columbia and New York and is licensed to practice in Japan as a Foreign Registered Lawyer (外国法事務弁護士).  He advises on a wide range of cross-border corporate and commercial transactions, including in the pharmaceutical and health care industries, and has represented health care multinationals such as Pfizer, Astra-Zeneca, Zimmer, Novartis and BD (Becton, Dickinson) on their businesses in Japan, and Japanese pharmaceutical companies such as Takeda, Senju Pharmaceutical and Sawai Pharmaceutical on their transactions outside Japan.
Event Details
June 22 (Tue)


Registration Closed
17:00 ~ 18:00
Free
Registration is Closed