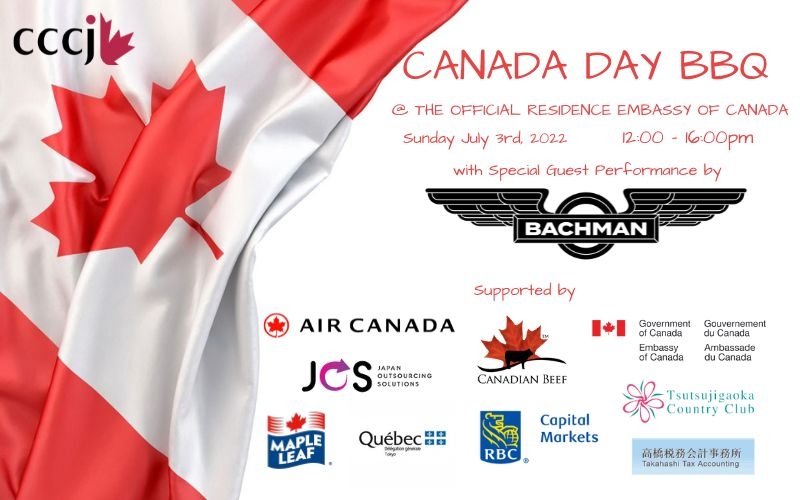 [Tickets Sold Out] Canada Day BBQ
Join us Canada Day BBQ at the Official Residence of the Embassy of Canada to Japan on Sunday, July 3rd!
This event will be on a "first come, first served" basis for a maximum capacity of 150 people, so make sure to get your tickets before they sell out.
Let's enjoy Canada Day 2022 over some fine dishes featuring Canadian Beef and Canadian Pork with some refreshing beverages, and a special performance by Randy Bachman with his long-lost guitar, who'll play only for us!
You also have a chance to win the Door Prize -- a pair of tickets to Canada, sponsored by Air Canada, a Sustaining member!
IMPORTANT NOTES:
1. Please make sure that your government-issued photo ID matches the name(s) that you have registered.
2. Upon arrival at the Embassy, you will be asked for the security check and for showing your government issued photo ID.
3. This event is for members and their families only. For CCCJ members who wish to bring their friends, registration for non-members will be open on Tuesday, June 28. 
4. No walk-ins are allowed.
CCCJ would like to thank all the participants for your cooperation in advance.
Schedule: 
11:30 Doors Open
12:00 BBQ starts
13:00 Randy Bachman Live Performance
16:00 Adjournment
Event Details
July 03 (Sun)


Registration Closed
12:00 ~ 16:00
Adult (Members) -- ¥7,500, Adult (Non-members) -- ¥10,000, Children between 5 and 12 years old -- ¥3,000
Registration is Closed