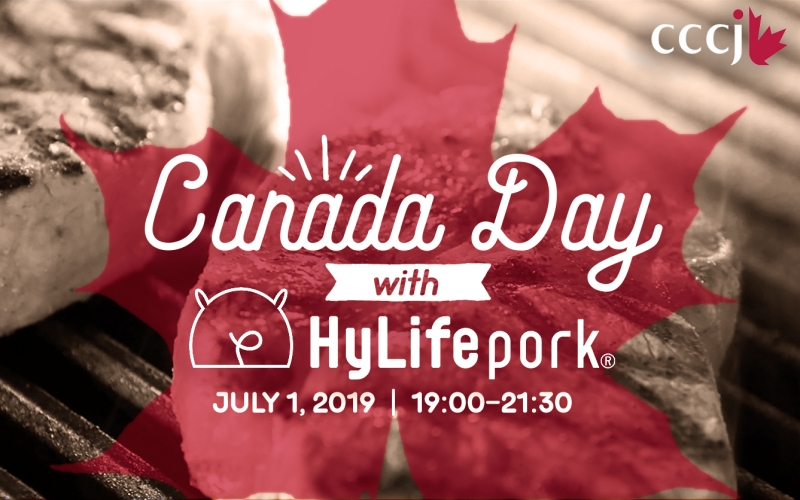 SOLD OUT!!! CCCJ presents: Canada Day with Hylife Pork!
Come and celebrate our Canada Day event with Hylife Pork in Daikanyama!
We got lots of fun activities planned and lucky draw to win some amazing prizes!
Face paiting and nail art are available for anyone who would like to have a Canadian flag on their face or nails!
Location: Hylife Pork Daikanyama
Date: July 1, 2019
Time: Registration starts at 18:30
19:00-21:30(L/0) 22:00(Close)
3,500 yen for an amazing selection of buffet including their famous ham, sausages, tapas, salad, grilled steak, roasted pork, pasta, pizza and dessert.
One selection of alcoholic or non-alcoholic beverage is included. 
* Canadian drinks (Craft Beer, Ice wine, signature cocktails are available on cash bar at ¥1000 each. 
Any other drinks such as beer, whiskey, cocktails and soft drinks are available on cash bar at ¥500 each. 
*Children under the age of 7 are free of charge.
*Children up to junior high school are ¥2000. Please make a payement at the venue
Tickets are limited, so please sign up early!
ハイライフポークでカナダの建国記念日を一緒に祝いましょう!
カナダ産ハイライフポークをふんだんに使ったビュッフェを用意し、テラスにて豪快なカナディアンBBQも予定しております。
日程:2019年7月1日(月曜日)
場所:ハイライフポーク代官山
時間:18:30受付開始 19:00~21:30(L/0) 22:00終了
料金:3,500円(無料ドリンク1杯含む)
その他のドリンクはキャッシュオンスタイルでご用意しております。
カナダドリンク(クラフトビール・アイスワイン・オリジナルカクテル)1000円
他ドリンク(ビール・ウイスキー・カクテル・ソフトドリンク)500円
お子様料金 2,000円(税込み)*小学生まで *小学生未満は無料 当日会場にてお支払いください。
ビュッフェスタイルにて、自家製ハム・ソーセージ・タパス類・サラダ・グリルステーキ・ローストポーク・
パスタ・ピザ・デザートをご用意しております。
*雨天の場合はテラスでの提供は中止
カナダ国旗のフェースペイント又はネイルアートがワークスペースにて行われます。
抽選会の開催(ハイライフグッズ・BTLアイスワイン など)
Event Details
3500 yen
Registration Closed
18:30
Hylife Pork
HyLife Pork Table 〒150-0033 渋谷区猿楽町10-1 マンサード代官山2階
3500
Registration is Closed