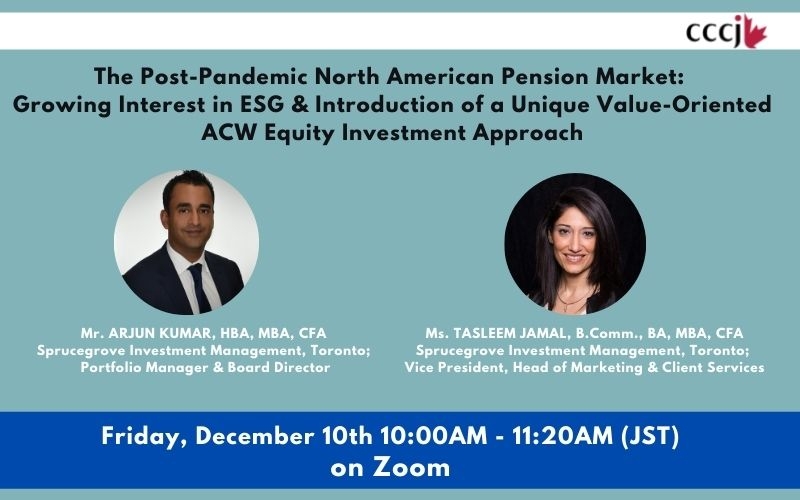 The Post-Pandemic North American Pension Market
The Post-Pandemic North American Pension Market: Growing Interest in ESG & Introduction of a Unique Value-Oriented ACW Equity Investment Approach
Date: Friday, December 10, 10:00-11:20 (JST)
Venue: Zoom
Language: English (with Japanese translation during Q&A session)
Specialty Focus: Global Equity Investment
Speakers: Mr. ARJUN KUMAR, HBA, MBA, CFA (Sprucegrove Investment Management, Toronto; Portfolio Manager & Board Director)
                 Ms. TASLEEM JAMAL, B.Comm., BA, MBA, CFA (Sprucegrove Investment Management, Toronto; Vice President, Head of Marketing & Client Services)
Fee: Free of charge
Overview
North American pension funds have grown their assets more quickly than their global peers over the past decade. This was driven by the strengthening U.S. dollar and a greater emphasis on investing in equities coupled with a boost from the Fed's easy monetary policy.
Responding to broad social and economic forces, most of these pension funds and other institutional investors have shown strong interest in Environmental, Social and Governance (ESG) and Diversity, Equity & Inclusion (DE&I) issues, in shaping their strategies for North America and globally. Our speakers will introduce the trends, key topics and concerns shared by institutional investors in recent years.
With that background, we are delighted to introduce the unique value-oriented investment approach developed by this Canadian institutional investment manager, Sprucegrove Investment Management, which has a proven track record of successfully managing U.S. and Canadian institutional assets in global equity markets for over 35 years.
 
Program
10:00-10:05 Opening Remarks by David Anderson, Chair, The Canadian Chamber of Commerce in Japan
10:10-10:20 "Update investment policy & strategy of pension funds in North America" presented by Tasleem Jamal, MBA, CFA (Sprucegrove Investment Management)
10:25-10:40 "Unique approach in global equity investment by a Canadian Manager" presented by Arjun Kumar, MBA, CFA (Sprucegrove Investment Management)
10:45-11:00 Q&A Session
11:10           Closing Remarks by Takahiro Kusakari, Director, CIO, Fund Manager, Sawakami Asset Management Inc.
Event Details
December 10 (Fri)


Registration Closed
10:00 ~ 11:20
Free of charge
Registration is Closed