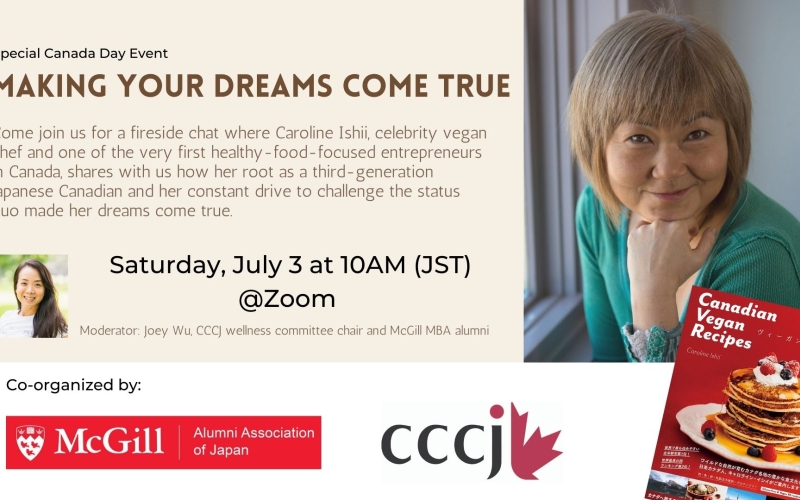 Making your dreams come true - How Japanese Canadian Caroline Ishii became a celebrity vegan chef on July 3, 2021
Join us if you:
are an entrepreneur interested in a success story;
are interested in why healthy food is becoming such a booming industry;
want to know a bit more about the buzz around vegan and plant-based;
just love Canada and Japan!
Like many of us, Caroline grew up with her soul spanning two countries – Japan and Canada. A third-generation Japanese born and raised in Canada, Caroline is an award-winning vegan chef, an author, and a frequent guest on TV and public shows.
Inspired by her Japanese mother, Caroline developed a love for simple and natural food at a young age, and had always dreamt of becoming a restaurant owner. Working towards her dream, she trained professionally at the Natural Gourmet Institute in New York and interned at the best vegan restaurants in New York and San Francisco. 
Taking the steps towards her dream was one, but what really led to Caroline's success was her constant drive to challenge the status quo. In 2009, she took the bold step to open one of the first vegan restaurants in Canada, when people were so unfamiliar with the concept that they were calling it "vay-gan". She worked in a male-dominated kitchen environment where everyone constantly asked her to "act like a man", but she refused and built something new out of passion and creativity. Caroline was the first woman in Ottawa and the first vegan chef in Canada to be invited to compete in the prestigious Gold Medal Plates competition, in which she won the silver medal two years in a row.
Come join us for a conversation where Caroline will share her stories and "ingredients to success". This event will be moderated by Joey Wu, CCCJ wellness committee chair and McGill Japan MBA alumni. Participants will be given a few of Caroline's recipes at the end of the event!
--- Zoom link will be sent a day before the event. ---
Event Details
July 03 (Sat)


Registration Closed
10:00 ~ 11:00
Free for CCCJ and MAAJ members (please indicate if you are a CCCJ member or a McGill alumni after you click "add to cart"), 1,500 yen for Non-members
Registration is Closed