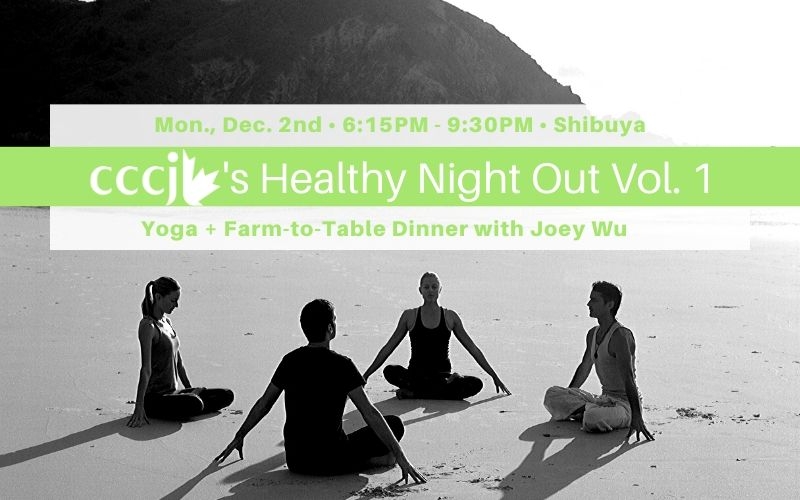 CCCJ Healthy Night Out Vol. 1
Join us for a night of Yoga and farm-to-table dining! 
Have you heard that yoga is good for you, but have never got a chance to try? Or feel like you should eat more healthily, sustainably, or locally, but don't know where to start?
No problem, we're here to help! Come join us for our first "Healthy Night Out" where Joey Wu, chair of the newly established CCCJ Wellness Committee, will guide you through a friendly, all-level yoga session followed by a delicious dinner of regionally sourced, sustainable ingredients at one of the best whole foods restaurants in Tokyo, We Are The Farm Shibuya! We will discuss tips on how eating a diet rich in vegetables can improve your health, happiness, and overall quality of life!
ヨガ&ヘルシーダイニング!
ヨガが健康のためにいいとは聞くけれど試したことがない。健康的でサステイナブルな食生活を送りたいと思っているけれども何から始めたらいいのかわからない。
そんなあなたにこのイベントはオススメです!
カナダ商工会議所新発足のウェルネス委員の委員長であり、ヨガインストラクターでもあるジョーイ・ウーが第1回「ヘルシーナイトアウト」をWe Are The Farm Shibuya にて主催します。
レベルフリーの誰でも参加できるヨガクラスの後には、地元で採れたサステイナブルな食材を使った美味しい夕食を準備しています。
野菜たっぷりの健康的な食生活がいかにして健康や幸福度、そして生活の質が増進できるのかについてお話ししましょう!
---
Schedule
6:15 Check in, change
6:30 Yoga & meditation
7:25 Wrap up, move to restaurant
7:30 Farm-to-table dinner with tips on healthy eating
9:30 Conclude
 スケジュール
  ・6:15 開場、着替え
  ・6:30 ヨガ&メディテーション
  ・7:25 ヨガ終了、レストランへと移動
  ・7:30 ヘルシーディナー(健康的な食生活を送るためのアドバイス付き)
  ・9:30 イベント終了
---
Venue Info
Shoto Takada Bldg. 1F
Shoto 1-28-11, Shibuya-ku
Tokyo-to 150-0046
Map (entrance to yoga space right next to We Are The Farm)
---
What to Expect
Not sure what to bring for the yoga session? Not much! Except comfortable clothes for changing into, and a positive attitude and open mind. We will have yoga mats ready for you!
There will be a changing room at the venue for getting suited up, and class will start sharply at 6:30PM - so please arrive early if you need to change!
Following that, you'll be enjoying a four-course, farm-to-table meal accompanied by a wide variety of organic wines, seasonal beers and much more. All the more reason to give the Yoga session your all! 
イベントへの参加に際して
イベントにはヨガのできる運動ウェアをお持ち下さい。ポジティブさとオープンマインドな気持ちも忘れずに!ヨガマットはこちらでご用意しております。
会場には着替えるお部屋がございますが、ヨガのセッションは6:30ぴったりに始まりますのでもしも着替えをなさる方はお時間の少し前にご来場ください。よろしくお願いいたします。
ヨガのセッションの後には、多数のオーガニックワインと季節のビール等を含む、産地直送食材を使った4品のコースディナーをご用意しています。
---
About the Instructor
Joey Wu teaches community and private yoga classes during her free time when she is not busy with her day job in the financial sector. Passionate about sharing her love for yoga and healthy eating, Joey is a Registered Yoga Teacher (RYT200) with Yoga Alliance, a certified Ashtanga yoga teacher with the International Yoga Center in Tokyo, and Chair of the Wellness Committee at the Canadian Chamber of Commerce in Japan.
Joey has also obtained her Certificate in Nutrition from Cornell University and is currently completing her advanced teacher training (RYT 500) with Jason Crandell, one of the most respected yoga teachers in the world.
*Note: images in the gallery below do not reflect the contents of the event advertised here and are meant merely as a visual aid*
インストラクターについて
ジョーイ・ウーは本職である金融部門での仕事の傍、空いた時間にコミュニティ・プライベートの両方でヨガのレッスンを行なっています。ヨガと健康的な食生活にパッションを持つ彼女は、ヨガアライアンス公認のヨガインストラクター、東京の国際ヨガセンター公認のアシタンガヨガの講師、在日カナダ商工会議所のウェルネスコミティの会長です。
さらにジョーイはコーネル大学から栄養学の学位を取得しており、現在はヨガの講師として世界的に尊敬されているジェーソン・クランデル氏の元さらにアドバンスレベルのヨガ講師のためのトレーニングを受けています。
*下記に添付の写真は本イベントの写真ではなく、イベントの様子をイメージしていただくためのサンプル画像です。ご注意ください。
Event Details
December 02 (Mon)


Registration Closed
18:15 ~ 21:30
レンタルスペース渋谷松濤
Shoto Takada Bldg. 1F Shoto 1-28-11, Shibuya-ku Tokyo-to 150-0046
Member Price, ¥7,500; Non-Members Price: ¥8,000
Registration is Closed