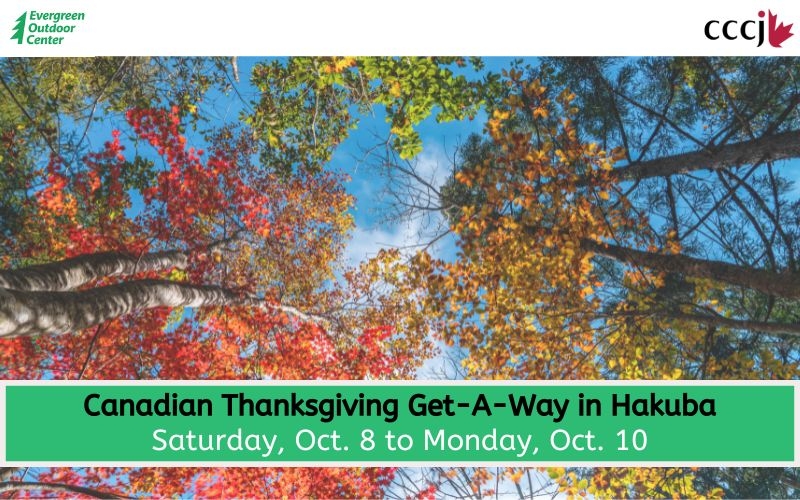 Canadian Thanksgiving Get-a-Way in Hakuba
CCCJ along with Evergreen Outdoor Center, a Small Business Member, will be hosting the 'Canadian Thanksgiving Get-a-Way' in the Japan Alps this coming Thanksgiving (Sports Day in Japan) three day long weekend in Hakuba. Many of you know Evergreen Outdoor Center for their Summer Camps or robust ski school programs in Hakuba. Evergreen's founder and CEO will be putting on a Canadian Thanksgiving weekend not to be missed. Full to the brim with outdoor activities that the whole family can enjoy like an afternoon hike to Happo pond to view the spectacular autumn colours, a morning of canoeing followed by a picnic on the crystal clear Lake Aokiko and fun mountain bike ride catered to differing levels of experience around the back roads and trails of Hakuba or a round of golf on the naturally spectacular Hinatayama Kogen golf course. Not only will it be a weekend of exciting and memorable activities with friends and family but an abundance of locally harvested and prepared delicacies, which include a welcome Canadian Salmon BBQ with local craft beers and wines to be enjoyed to local live music, the canoe picnic on Lake Aokiko, a Canadian Turkey and Shinshu roast beef dinner with harvested vegetables and a local 'shin' (newly harvested) soba noodle and autumn mushroom tempura lunch before heading back to Tokyo. All of this set to the background of the Japanese Northern Alps and your choice of accommodation.  You won't want to miss this amazing get-a-way to the mountains to enjoy a Great Canadian Thanksgiving Adventure here in Japan. It will be the talk of the Chamber right up until next years Canadian Thanksgiving!
To book, please visit: https://evergreen-outdoor-center.bookfast.jp/public/booking/order02.jsf?vid=8a80818a7f61db1c017f624167a90cdd
(Discount code for CCCJ member: CCCJ_MEMBER)
Schedule:
[Saturday, October 8]
11:45 Meet up at Hakuba Station, if you take trains (Azausa Express or Shinkansen/Bus)
12:30 Lunch
13:30 Happo Pond Hike
[Sunday, October 9]
9:30 Pick-up at Hotel and Shuttle to Lake Aokiko
10:00 Canadian Canoe on Lake Aokiko with Picknic Lunch at the Lake
18:30 Thanksgiving Dinner and Drinks
20:30 Campfire side drinks and stories
[Monday, October 10]
9:30 Mountain Bike Fun Ride around Hakuba, or Golf at Hinatayama Kogen Golf and Country Club
14:30 Disband at Hakuba Station
If you have any inquiries, please contact to Evergreen Outdoor Center Inquiry. 
Event Details
October 08 (Sat)

to

October 10 (Mon)


Registration Closed
11:45 ~ 15:00
Please see attached "Pricing" PDF file.
Registration is Closed