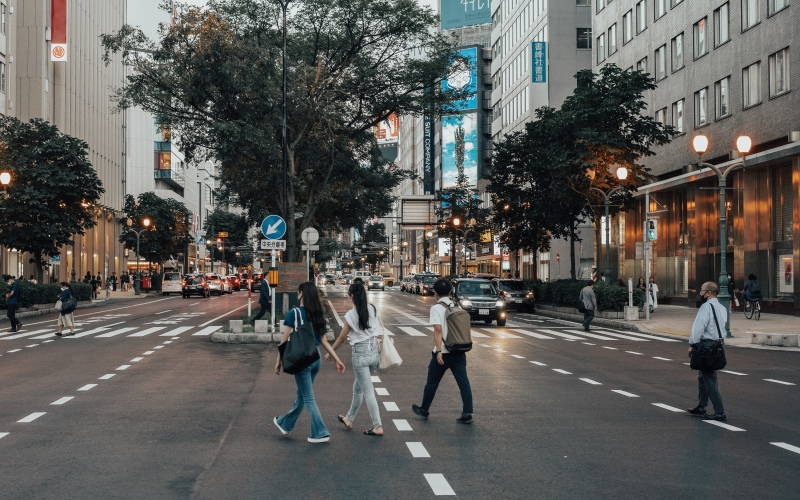 The CCCJ issues a statement urging Prime Minister Suga to engage with foreign national residents of Japan 在日カナダ商工会議所、菅首相に日本の長期外国人移住者への配慮を求める声明を発表
Tokyo - December 10, 2020 - The Canadian Chamber of Commerce in Japan along with the European Business Council and the American Chamber of Commerce in Japan have issued a statement to congratulate Prime Minister Suga on his first few months in office, and to urge him to include the needs of foreign national residents in his policies.
Foreign residents in Japan have been adversely affected by re-entry restrictions, and were usually treated similarly to short-term visitors in recent policies. Restrictions have relaxed somewhat, but it remains difficult to obtain the required medical testing in many countries. Unfortunately, this may start to affect Japan's potential in attracting foreign talent and international students for Japan's corporations and universities. 
As Prime Minister Suga forms his policy agenda, the above mentioned chambers of commerce hope that the considerations of Japan's long-term foreign residents will be taken into consideration. As a group, we respectfully request the Government of Japan to treat foreign residents of Japan in the same manner as Japanese residents, with regards entry requirements and other issues related to Covid-19, as has been the case in other G7 countries. Japan has 2.93 million residents with foreign passports, who are contributing to the economic growth and the social community of Japan, as it is our shared home. 
About the CCCJ
The Canadian Chamber of Commerce in Japan is a private sector, not-for-profit business organization founded in 1975 to promote the development of commerce between Canada and Japan. Representing some 35 business sectors, the CCCJ is a member-driven organization and is the longest-serving Canadian Chamber in Asia. With over 400 member representatives, the CCCJ represents a broad cross-section of businesspersons and entrepreneurs from Canada, Japan and other countries. Membership is comprised of Canadian companies and individuals with ties to Japan and Japanese companies and individuals with ties to Canada.
About the European Business Council
The European Business Council (EBC) is the trade policy arm of 15 European National Chambers of Commerce and Business Associations in Japan and has been working to improve the trade and investment environment for European companies in Japan since 1972. The EBC was registered with the Ministry of Economy, Trade and Industry (METI) in 2008 as the European (EU) Chamber of Commerce in Japan. The EBC currently works for around 2,500 local European corporate and individual members through fees paid via their respective national chamber of commerce. 
About the American Chamber of Commerce in Japan
The American Chamber of Commerce in Japan (ACCJ) was established in 1948 by representatives of 40 American companies. Over its 72-year history, the ACCJ has positioned itself as one of the most influential business organizations in Japan. The ACCJ has approximately 3,000 members who together represent over 600 globally minded companies with offices in Tokyo, Nagoya, and Osaka. 
Media contact: For media enquiries in Japanese, English or French, please contact the CCCJ office at 03-6811-2391 or info [at] cccj.or.jp.
東京-2020年12月10日-在日カナダ商工会議所は、在日米国商工会議所および欧州ビジネス協会とともに、菅首相の就任3か月を祝福し、日本の長期外国人移住者への配慮を求める声明を発表しました。
日本の外国人居住者は再入国制限の悪影響を受けており、最近の政策では通常、短期滞在者と同様に扱われていました。制限は緩和されてきておりますが、多くの国で必要な医療検査を受けることは依然として困難です。残念ながら、これは日本の企業や大学に外国人の才能や留学生を引き付けるという日本の可能性に影響を及ぼし始めるかもしれません。菅首相が政策課題を策定するにあたり、上記の商工会議所は、日本の長期外国人居住者への配慮が考慮されることを望んでいます。私たちはグループとして、他のG7諸国と同様に、新型コロナウィルスに関連する入国条件やその他の問題に関して、日本の外国人居住者を日本人居住者と同様に扱っていただけるよう日本政府に敬意を表して要請します。日本には、日本の経済成長と社会的コミュニティに貢献している外国のパスポートを持つ293万人の居住者がいます。
在日カナダ商工会議所(CCCJ)について
在日カナダ商工会議所は、カナダと日本の商業発展を促進するために1975年に設立された民間の非営利ビジネス団体です。約35の業界を代表するCCCJは、会員主導の組織であり、アジアで最も長い歴史を持つカナダ商工会議所です。
CCCJ は、カナダ、日本、その他の国のビジネスマンや起業家を幅広く代表しており、400 名以上の会員を有しており、日本と関係のあるカナダの企業や個人、カナダと関係のある日本の企業や個人で構成されています。
在日米国商工会議所(ACCJ)について
在日米国商工会議所(ACCJ)は、米国企業40社により1948年に設立された日本で最大の外国経済団体の一つです。米国企業の日本における経営者を中心に、現在は約3,000人の会員で構成され、東京、名古屋、大阪に事務所を置いています。
欧州ビジネス協会(EBC)について
欧州ビジネス協会(EBC)は欧州15ヶ国の在日商工会議所・ビジネス協会にとっての通商政策部門であり、1972年に設立されて以来、在日欧州企業にとっての通商・投資環境の改善を目指し、活動を続けている。EBCの会員は法人と個人を合わせ現在約2,500を数えるが、会員はすべて各国の商工会議所に所属し、日本で活動している。EBCは、在日欧州(連合)商工会議所として経済産業省に登録されている。
メディア関連のご質問は、英語、日本語、フランス語にて対応可能です。  CCCJ  03-6811-2391 またはメール info [at] cccj.or.jpまで。