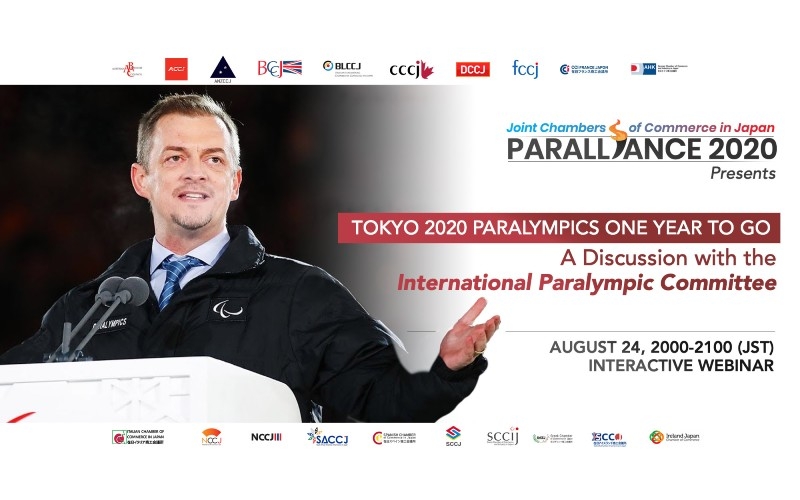 Recap of Tokyo 2020 Paralympics 1 Year to Go! – A Discussion with the International Paralympic Committee
On Aug. 24th a webinar was hosted by the British Chamber of Commerce in Japan along with Paralliance 2020 about the one-year countdown to the Paralympic Games in Tokyo. Paralliance is a group of 20 international chambers of commerce, including the CCCJ, working together in preparation for the Olympic and Paralympic Games. Speakers at the event were President of the International Paralympic Committee (IPC), Mr. Andrew Parsons, as well as IPC Chief Brand & Communications Officer, Mr. Craig Spence and IPC Governing Board Member at Large and President of the Japanese Paralympic Committee, Mr. Yasushi Yamawaki.
Mr. Yamawaki spoke about the legacy of the Paralympic Games in Tokyo, which can already be seen in many infrastructure projects that have been completed. Tokyo has increased mobility options and accessibility for many areas of the city, including train stations. In addition, awareness of parasports has increased in Japan, and the perception of people with disabilities has shifted positively. Many primary and secondary schools in Japan received education programs about inclusion and diversity. 
Mr. Parsons discussed the commercial aspect of the Tokyo Paralympics. Japan has been a great environment for commercial sponsorship, with two airlines and several banks sponsoring the Paralympics. However, the Games held in 2021 will be downsized, they will not be the same style of previous Games, but they will still be great. This is to ensure the safety of the athletes and is the number one most important thing. 
He also spoke about the legacy of the Games, and what the business community can do to contribute. Getting involved in the Games, hiring persons with disabilities at your company, contributing to the legacy of employment, inclusivity and mobility for persons with disabilities are all things you can do as a business person. Also, if you are interested in learning more about parasports, Rising Phoenix is a new documentary on Netflix about paralympic athletes. 
Mr. Parsons acted as moderator during the first portion of the webinar, and also added a few comments answering questions from the webinar participants. When asked about heat and humidity, he said that the IPC has worked with the Tokyo Metropolitan Government on a plan based on the weather averages of several summers. This summer's data is now being included in the plan as well. Due to this data, the start time of the marathon was changed. When asked about how the business community can help, he also highlighted hiring persons with disabilities, pointing out that they are often pragmatic individuals who have experience with problem-solving. 
Alison Beale (BCCJ Vice President) was the moderator for the Q&A time at the end of the session. Thank you to the speakers and the participants for a thought-provoking session!