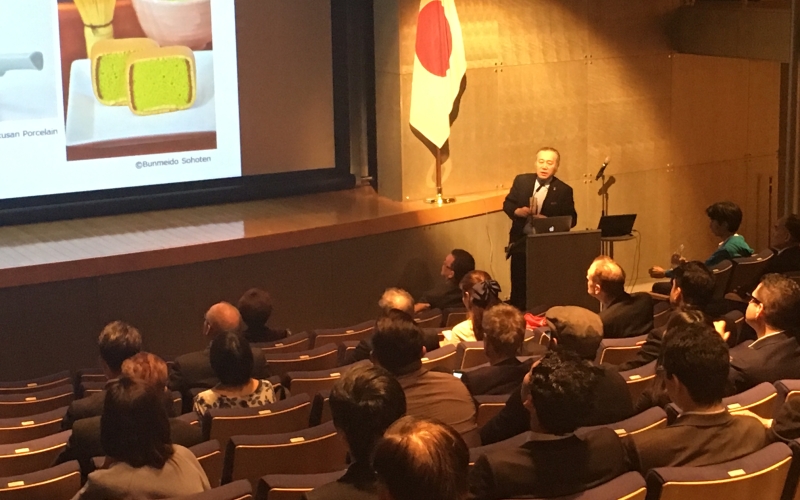 [Event Report] Joint Chamber Seminar - Cool Japan Fund
Founded in 2013 as a public-private fund, the Cool Japan Fund was developed with the aim of supporting and promoting demand for excellent Japanese products and services outside Japan.
Back when the fund had just started out, the Canadian Chamber of Commerce in Japan hosted a briefing session to introduce the newly formed fund and objectives to the greater Chamber business community in Tokyo. At that time, CJF representatives discussed the fund's objectives and guiding principles, but with no investments to speak of, attendees were left curious.
Almost three years and 15 investments later, the CJF now has a portfolio of projects offering services or products across three [broad] core industries: media and content, food and services, and of course fashion and lifestyle.
With something more concrete to talk about, at the advice of CCCJ Honorary Board of Advisor's Ms. Akiko Kosuda, On April 13th, 2016, the CCCJ and six other Chambers of Commerce came together for a follow up information event on the fund.
Hosted at the Embassy of Canada to Japan's Oscar Peterson Theater, the event program started with an overview of the fund and its activities since founding as presented by Mr. Nobuyuki Ota, CJF Chief Executive Officer. Mr. Ota is cofounder of the Council of Fashion Designers Tokyo, a member of the board of directors for Tokyo Fashion Week and past president at none other than the Issey Miyake. In his presentation, he explained that one of the main goals of the Fund is to create Japan promotional hubs allowing for smoother distribution of various Japanese goods and services to the world. And while Japan enjoys an image of being a major exporter of creative industries the Fund's CEO made a strong case for a fund supporting these types of industries, by explaining that over the past half-decade Japan has actually posted a trade deficit in the areas of: cosmetics, apparel, movies, music books, magazines and copy rights.
The second part of the program provided a concrete look into the fund's first investment, Tokyo Otaku Mode (TOM). Formerly an investment banker at Merryl &Lynch and now TOM's Chief Financial Officer, Mr. Nao Kodaka's presentation began with an introduction of his company, which started off first as a Facebook page specializing in sharing Japanese pop culture news and content. A as well as products related to Japanese anime, manga, games, music, and fashion. Kodaka-san explained that TOM was born as media on Facebook. The company's Facebook page serves as a marketing tool, to attract users and direct them to their own e-commerce web page. Since launching in 2011, TOM has acquired over 16 million likes. While the company had rapid success in developing a Facebook following, and even generating sales, it wasn't until CJF agreed to invest 1.5 billion yen ($13.7 million) in the company (over a three year period) that TOM was really able to grow its business. TOM's sales are growing rapidly with over 30% monthly CAGR and ships to over 60 countries, including the US, Canada, Singapore, Mexico and France, to name a few. The United States, Canada and Australia are the company's biggest markets taking 55%, 9% and 7% of sales respectively. 
After a lively Q&A session, event attendees took part in a short networking session.
The CCCJ would like to thanks the Cool Japan Fund for its efforts in the preparation of this event and recognize Ms. Akiko Kosuda for her continued efforts in promoting business opportunities such as this one to the international Chamber business community. We would also like to thank all participating Chambers for helping promote the event and the Embassy of Canada to Japan for hosting.
***
The CCCJ is proud to celebrate 40 years of Partnership with Air Canada, its longest serving Corporate Sustaining Member.
***
Please take a minute and download our digital app, The Canadian and like us on our Youtube, LinkedIn, Facebook and Twitter accounts
***