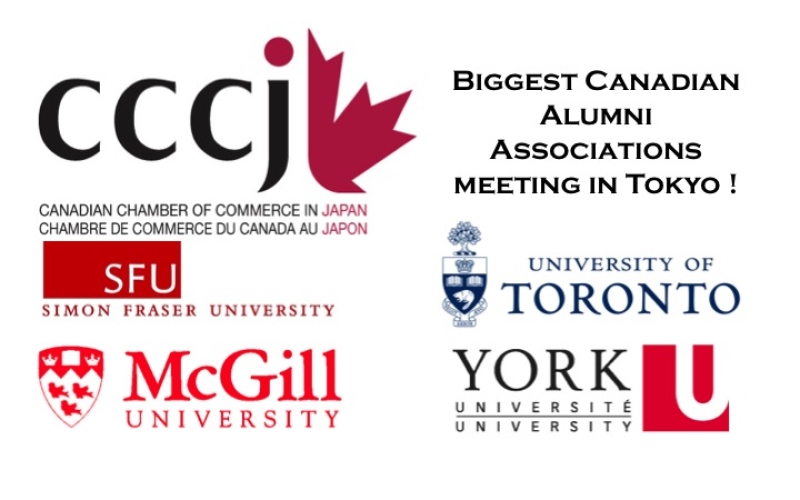 [Event Report] CCCJ Canadian University Alumni Mixer - Spring 2016 Edition
CCCJ members and alumni associations from various Canadian universities (listed below), enjoyed a lively reunion at Roppongi BrewDog Thursday, May 19th for a laid back Spring mixer.
People in attendance were diverse in background and industry, but all shared a common Japan-Canada link – and a Canadian education!
This event was organized by the CCCJ in association with the following alumni associations:
•   McGill MBA Japan and McGill Alumni Association
•   University of Toronto Alumni Association
•   York University Alumni Association
•   SFU Alumni Association
In addition, many alumni members from other Canadian universities came along to meet fellow Canadians in Japan, and Japanese who have experienced life in Canada at one point or another. Approximately, 10 Canadian universities were represented, totaling more than 50 attendees. A very interesting crowd!
On behalf of the CCCJ's events committee and office, we would like to extend thanks to all of the participating alumni associations and their members. The Alumni Mixer Event series is a great platform to offer members and non-members alike a fun opportunity to meet professionals based in Tokyo who share similar experiences. In addition, for the CCCJ as an organization, this event series yields positive results in our goals of expanding our network and showcasing the diversity and richness of the CCCJ membership to Canada-related professionals in Tokyo.
Given the successful networking outcomes participants have enjoyed through this event, the CCCJ will host the popular Canadian University Alumni Mixers on a bi-annual basis (in Autumn and in Spring). Chamber events are a terrific opportunity to network and gain knowledge about various aspects of the Canada-Japan relationship and doing business in Japan.
The CCCJ holds approximately 40 events per year covering a broad range of topics and themes. In addition to seminars and conferences on timely business issues, the CCCJ also works with networks throughout Japan to organize casual events, such as Alumni Mixers to facilitate new opportunities for professionals to meet and grow their connectivity. 
About the venue:
Based over split levels, BrewDog Roppongi boasts 20 taps pouring some of the tastiest craft beers in the world. Having prepared meals for the likes of Johnny Rotten, Arnold Schwarzenegger and The Emperor of Japan, the house chef is now looking to create the perfect BrewDog menu, designed to accompany and complement the abundance of flavours offered by our line-up of epic craft beers. Visitors to BrewDog Roppongi will be greeted with a revolving & evolving range of awesome dishes!
 ***
The CCCJ is proud to celebrate 40 years of Partnership with Air Canada, its longest serving Corporate Sustaining Member.
***
Please take a minute and download our digital app, The Canadian and like us on our Youtube, LinkedIn, Facebook and Twitter accounts
***