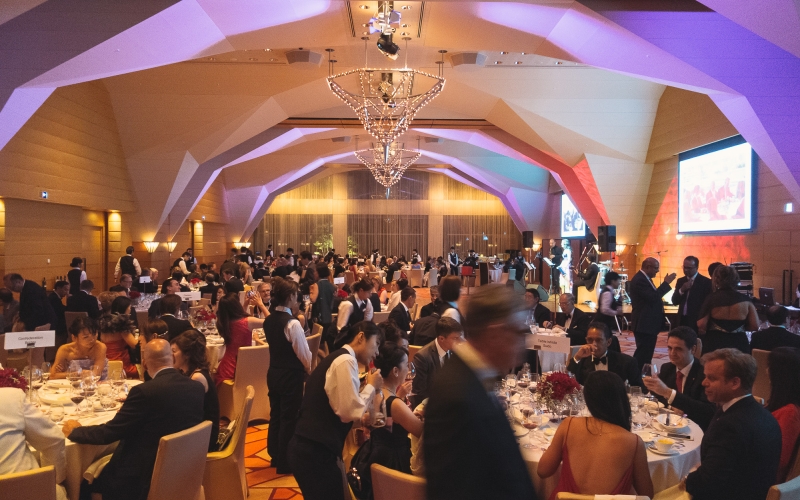 [Event Report] 2015 Maple Leaf Gala - Feuille d'Érable
2015 Maple Leaf Gala - "Energizing Synergies"
Gala Feuille D'érable 2015 – "Synergies énergisantes"
The Canadian Chamber of Commerce in Japan (CCCJ) hosted its 37th annual Maple Leaf Gala on November 13th drawing a crowd of over 200 members and guests at the Tokyo American Club, in Azabudai, Minato-ku. The event was hosted in the presence of Her Imperial Highness, Princess Takamado, and His Excellency, Ambassador of Canada to Japan, Mr. Mackenzie Clugston. A formal evening of business and social networking celebrating a successful year, the Maple Leaf Gala is truly one of the highest-profile Canada-Japan events.
The evening started off with a lively sparkling wine reception, where guests mingled, met with old friends, and exchanged business cards with new contacts. There were attendees from numerous organizations such as Air Canada, the Southwestern Ontario Marketing Alliance, the Embassy of Canada to Japan, Currie & Brown, Manulife, JAL CAE, TSI International Group, Torys LLP, CSA Group, and Solar Power Network, to name a few.
After the sparkling wine reception, guests were seated in the Main Hall, at beautifully decorated round tables – some named after well-known Canadian Landmarks, like 'Chateau Frontenac'.
Andrew Lambert, the CCCJ's Executive Director, greeted and thanked guests. He then expressed gratitude for the generous support for the event shown by this year's sponsors before introducing distinguished guests at the head table namely, Her Imperial Highness - Princess Takamado; His Excellency, Ambassador of Canada to Japan - Mr. Mackenzie Clugston and his wife Mrs. Paula Bowers, newly appointed CCCJ Chairman - Mr. Ron Haigh and his wife Mrs. Kazumi Goto; and former Ambassador of Japan to Canada - Mr. Sadaaki Numata and his wife Mrs. Kyoko Numata.
Former Ambassador of Japan to Canada, Mr. Sadaaki Numata provided the night's official "kanpai" following a cheerful mention of the seasons in Canada as "almost winter, winter, still winter and road construction" which resulted in an uproar of laughter.
Guests enjoyed a five-course dinner paired with delicious Canadian wines from the Okanagan region. The talented Jazz Duo Eimy and Mimi provided renditions of popular Jazz, Pop and Bossa Nova songs in English, French, Japanese and Portuguese. Following the desert course, the CCCJ arranged for a traditional Japanese cultural dance performance, which concluded in an opportunity for guests to join the performers on stage to be adorned in a Kimono for a photo op which proved exciting for the ladies, and some men.
With dinner finished, newly elected CCCJ Chairman, Mr. Ron Haigh, addressed event attendees, highlighting the Gala as an event that celebrates the rich and highly complementary relationship that Canadian and Japanese business communities enjoy, hence the theme "Energizing Synergies". Chairman Haigh elaborated on the importance of drawing from each other's experiences and expertise in order to foster growth and success between the two countries.
Before thanking guests and concluding, Chairman Haigh announced two of his early commitments to the CCCJ and its members. The first promise in his new capacity as Chair, Mr. Haigh is spending two days at the CCCJ office every week, in order to become involved deeply in all aspects of the CCCJ's business. Mr. Haigh also pledged to take on a step-by-step analysis of the CCCJ's strengths and weaknesses - in order to establish an action plan to further grow the Chamber's areas of expertise.
Following the Chairman's speech, His Excellency, Ambassador of Canada to Japan, Mr. Mackenzie Clugston took the podium. Ambassador Clugston remarked that the event's theme – Energizing Synergies – is "inspiring and evocative in many ways and it captures eloquently the momentum and complementarity in the Canada-Japan relationship, one that is based on common values which includes a commitment to democracy, human rights, open markets and the rule of law". Ambassador Clugston spoke – comfortably transitioning between French, English and Japanese – to the strong and dynamic relationship that Canada and Japan enjoy from a commercial perspective noting that Canada has a welcoming investment environment with strong economic fundamentals and easy access to global markets. He provided that over 330 Japanese organizations have an established presence in Canada, while in turn, over 100 Canadian companies have invested in Japan.
Outgoing CCCJ Chairman, Mr. Wilf Wakely was acknowledged by all speakers, and graciously thanked for his hard work, leadership and the significant role he played in making the CCCJ a success.
After dinner, a raffle was held and a lucky winner was presented with a grand prize of two business class tickets to any Canadian City via CCCJ Member Company Air Canada. Guests then danced until just before midnight to tunes provided by The Good Times Band.
Another successful Gala!
The CCCJ would like to, once again, acknowledge and extend huge gratitude to the following sponsors for their generous contributions to the CCCJ 2015 Maple Leaf Gala.
PLATINUM SPONSORS:
Air Canada is the flag carrier and largest airline of Canada. The airline was founded in 1937 and provides scheduled and charter air transport for passengers and cargo to 178 destinations worldwide. It is the world's 9th largest passenger airline by fleet size. Air Canada's corporate headquarters is located in Montreal, Quebec while its largest hub is Toronto Pearson International Airport located in Mississauga, Ontario.  
SouthWestern Ontario Marketing Alliance (SOMA) is Canada's Industrial Heartland and is located in the center of the Southwestern Ontario peninsula between Toronto and Detroit. It is a major North American hub for Manufacturing and Innovation. SOMA works with all levels of government and the private sector to promote the advantages of locating within the region. SOMA and its partners offer a number of services to companies looking to grow within the region. These services include: confidential site selection assistance, economic development services, development and sale of industrial land.
GOLD SPONSORS:
Manulife is a leading Canada-based financial services company with principal operations in Asia, Canada and the United States. Since welcoming its first customers in 1887, Manulife has built a significant global presence by providing customers with strong, reliable, trustworthy and forward-thinking solutions for their most significant financial decisions
JAL CAE Flight Training (JCFT) Co., Ltd. is a Joint Venture company between CAE, a world leading Canadian flight simulator manufacturer and training provider, and Japan Airlines. Their training center is located at Haneda Airport, providing airline operators the most comprehensive portfolio of pilot training and simulator maintenance services available in commercial aviation. Their team of experts provide customer focused solutions tailored to airline training requirements.
Currie & Brown is one of the world's leading asset management and construction consultancies, dedicated to advising clients in respect of the management and utilisation of their physical assets and is differentiated by innovation, expertise and experience. They operate throughout the world and have offices in the Americas, Asia Pacific, Europe, India and the Middle East.
SILVER AND TABLE SPONSORS:
Torys LLP is a Limited Liability Partnership Canadian international business law firm with offices in Toronto, Calgary, Montreal, Halifax and New York, Torys serves clients in Canada, the United States and globally and is one of the Canadian "seven sisters" law firms. Torys' main practice areas are mergers and acquisitions, corporate finance and major litigation matters. In addition, the firm has experience in a wide range of other practice areas including restructuring and insolvency; taxation; competition and antitrust; environmental health and safety; private equity and venture capital; financial institutions; pension and employment; intellectual property; technology and communications; life sciences; real estate; infrastructure and energy; and personal client services.
CSA Group is a global provider of testing and certification services and leading standards development organization. They provide localized testing and certification services globally for a wide range of products across key business areas. Their office located in Tokyo provides local, qualified testing and certification for a variety of products that can help ensure your products get the market access and mark recognition it deserves. CSA's local experts offer the certification solutions for global market, and the guidance to drive your business towards success.
TSI International Group is a diversified group of companies engaged in a variety of real estate businesses. They offer a diverse selection of attractive land equity investment trusts in Canada to external equity managers and private investors through their teams in Canada, Japan and Hong Kong. TSI International Group was established as the first land banking company in Ontario, Canada that provides investors with exposure to land equity that offers secure income and capital growth combined with other asset classes such as Guaranteed Investment Certificates.