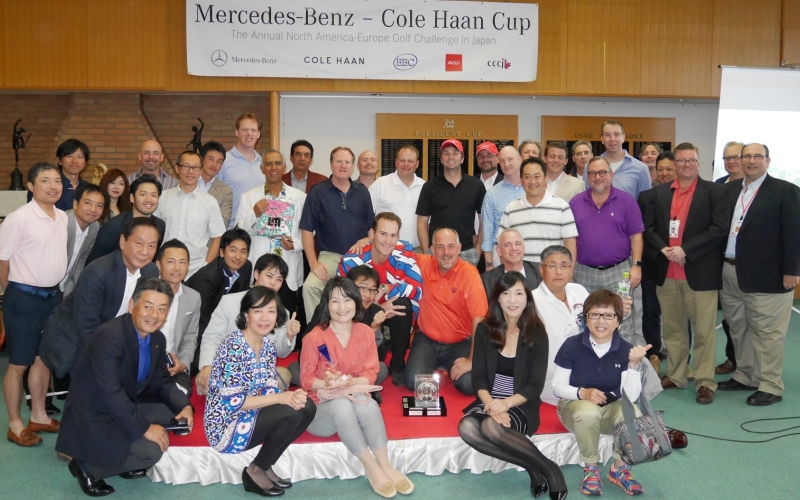 [Event Report] 13th Mercedes-Benz - Cole Haan Cup
After a defeat to European Team last year, the North American Team managed to take back the trophy at the 13th Cup played on Friday, 9 October at Atsugi Kokusai C.C. in Kanagawa Prefecture. The North Americans, lead by team captain Nick Masee, scored 74.9 versus Europe's 75.1, counted on the average of the 80% best net. The North American team still hold the edge in the history of the competition with nine wins to Europe's four.
Played in beautiful, sunny autumn weather, the event attracted a record 149 players, 78 for the Europeans, 71 for the North-Americans, which meant we had to use two extra groups from the planned two groups per hole in the shotgun start, which presented a logistical challenge, but the pace of play was generally smooth and the game finished on schedule.
Dean Rogers (NA) was by some margin the best golfer, winning both the best gross and best net, 66 (handicap 0), i.e. five under par on the par 71 course. The best female golfer was Michiyo Hirose (NA) with a net 73.9.
Click here for:
The event's After-Party was held on Wednesday, 14 October at Mercedes-Benz Connection in Nogizaka (opposite Tokyo Midtown). Attended by more than 100 players and their significant others, sponsors and representatives for the title-sponsors, Mercedes-Benz and Cole Haan. The participants enjoyed an evening with great comradery between the two teams, excellent food and unlimited drinks and a lot of networking.
Finally, the CCCJ would like to thank the event's organizers, in particular Mr. David Anderson - CCCJ Governor and Managing Director of the Alberta Japan Office, and Mr. Clas Bystedt - Executive Director at the Finnish Chamber of Commerce in Japan.   
*** 
Please take a minute and download our digital app, The Canadian and like us on our Youtube, LinkedIn, Facebook and Twitter accounts