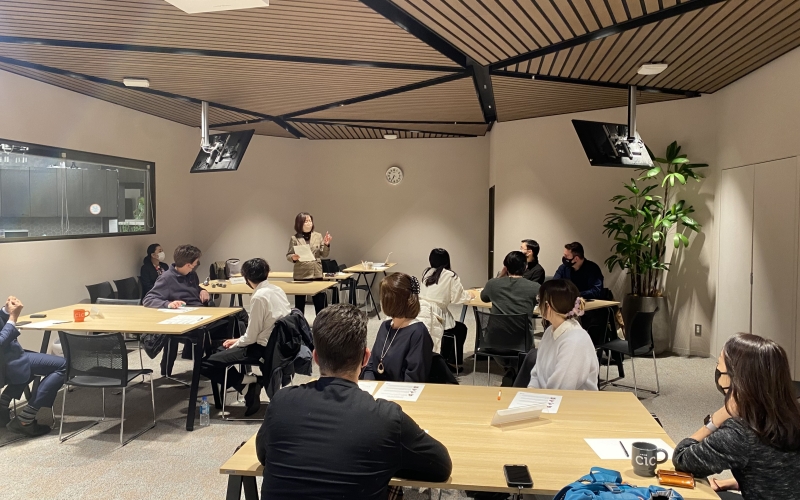 CCCJ Speed Mentoring Session
On Wednesday January 25th, the CCCJ Speed Mentoring Session took place at CIC Tokyo at Toranomon Hills Business Tower. After the 2 online sessions on Career Mentoring in 2022, we were grateful to be able to hold this Speed Mentoring for the first time in person. 
A total of 10 mentees joined to talk with the mentors including Karl Pires, Governor and Corporate Secretary of the CCCJ and the Local Partner heading the Japan M&A Practice at Shearman & Sterling LLP, Nicolas Chow Chin Sung, Governor and Chair of the CCCJ Emerging Technologies Committee and the Head of Engineering at Telexistence Inc., and Joey Wu, Chair of the CCCJ Wellness Committee and the Head of Japan Communications, Marketing & Corporate Affairs at Bank of America. 
With multiple mentoring rounds, the young professionals and university students who somewhat were facing career uncertainty and looking into transforming their careers had the chance to ask questions to the experienced industry leaders. The 3 mentors guided and helped grow mentees' careers by kindly sharing the pathways they've taken, their challenges and mistakes, tips on expanding connections, and more. Riyo Whitney, the moderator of the session and the Governor and Head of the CCCJ Education Committee, expressed her excitement for both individual/group mentoring sessions the CCCJ continues to offer in near future. She also added that it was a great opportunity for the mentees not only to exchange business cards but to have actual conversations and make connections with one another.
A huge thank you to each of the mentors for their great contribution to the event! This was round one, with more sessions to come with more mentors - so stay tuned! We are looking forward to seeing you again at our future Speed Mentoring Sessions!