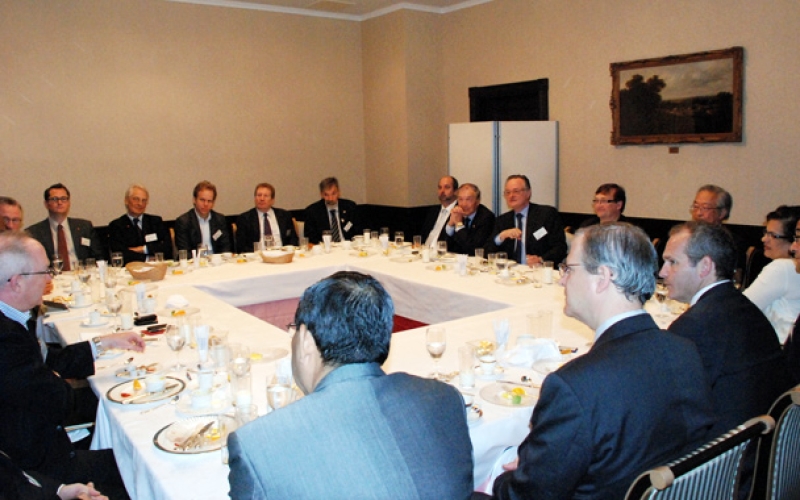 CCCJ and Canada-Japan Inter-Parliamentary Group (CJIG) Roundtable
On 25 May, the CCCJ hosted a breakfast roundtable with visiting members of the Canada-Japan Inter-Parliamentary Group (CJIG). The event featured an engaged discussion spanning the challenges and opportunities in doing business in Japan, progress with Canada-Japan Economic Partnership Agreement talks, the complementary nature of the Canada-Japan trade relationship, and Japan's aging population and lessons Canada can offer with regards to immigration policy. 
The CJIG is tasked to promote exchanges between Japanese and Canadian parliamentarians, propose initiatives likely to lead to a better mutual understanding of bilateral and multilateral matters and work to develop cooperation between the two countries. The CJIG is the largest of any equivalent Parliamentary group, with eighty members, and its representatives visiting Japan noted that in its more than eighteen year history, this visit offered the highest level engagement – evidence of the strong support on both sides to further build trade relations.
In addition to consultation with the CCCJ, the CJIG held talks with counterparts with the Japan-Canada Diet Friendship League, and visited the earthquake-hit zone in Tohoku. They also spoke with public-and private-sector leaders about opportunities for strengthening commercial ties, especially in agriculture, seafood, and science and technology. 
The CJIG was lead by Gerald Keddy, Parliamentary Secretary to the Minister of International Trade, for the Atlantic Canada Opportunities Agency and for the Atlantic Gateway, and Pierre Lemieux, Parliamentary Secretary to the Minister of Agriculture.
"Our government's pro-trade plan is helping to create jobs, growth and long-term prosperity for Canadian workers, businesses and families," said Mr. Keddy. "A trade agreement with Japan, the world's third-largest national economy, is part of that plan and would deepen our already strong trade and investment ties, and benefit workers and families in both countries."
Canadian Prime Minister Stephen Harper and Prime Minister of Japan Yoshihiko Noda announced the launch of negotiations toward an Economic Partnership Agreement during Prime Minister Harper's visit to Japan in March 2012. The initiative was launched following the release of the Canada-Japan Joint Study, which found that a free trade agreement with Japan could increase Canada's GDP by almost US$4 billion and boost Canadian exports to Japan by up to 67 percent.
In 2011, bilateral merchandise trade between Canada and Japan was valued at $23.7 billion. In the same year, Japan was Canada's fifth-largest merchandise trading partner and Canada's single largest source of foreign direct investment from Asia.