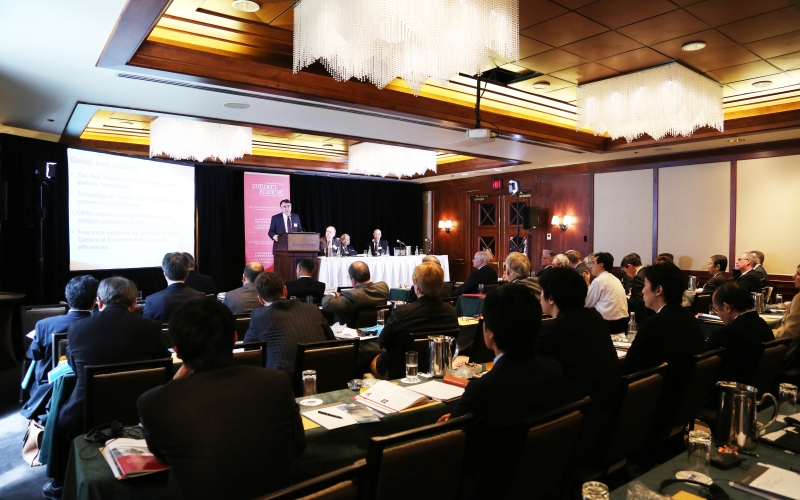 2013 Canada-Japan Trade Symposium in Toronto reinforces momentum for EPA
The Canadian Chamber of Commerce, together with co-hosts, the Canadian Chamber of Commerce in Japan (CCCJ) and Keidanren, held the 2013 Canada-Japan Trade Symposium in Toronto on April 25. The symposium provided an opportunity for business leaders from both Canada and Japan to discuss progress on government-level talks towards a comprehensive and high-level Economic Partnership Agreement (EPA) between Canada and Japan, which are now underway. The successful conclusion of an EPA is projected to boost Canadian exports to Japan by almost 70 per cent and increase GDP by almost $4 billion. It would be the first trade agreement between Japan and another G8 country.
The Toronto event followed a symposium held by the same organizations in Tokyo last November once again attracted from both countries. The lively discussions among the senior business leaders in attendance reaffirmed the importance that business communities in both countries attach to the bilateral trade and economic relationship.
Through a series of keynote presentations and expert panels, participants heard candid perspectives on the EPA from government officials, industry associations and companies from both countries. In addition to cross-cutting issues affecting the Canada-Japan relationship, the discussions covered opportunities and barriers to bilateral business in a number of key sectors, such as energy, forestry, manufacturing, life sciences, financial services and agri-food.
Select presentations from the symposium are available as below. 
A special CCCJ video with interviews of participants at the event will also be available shortly on the CCCJ website.
A speical thanks to event sponsors: