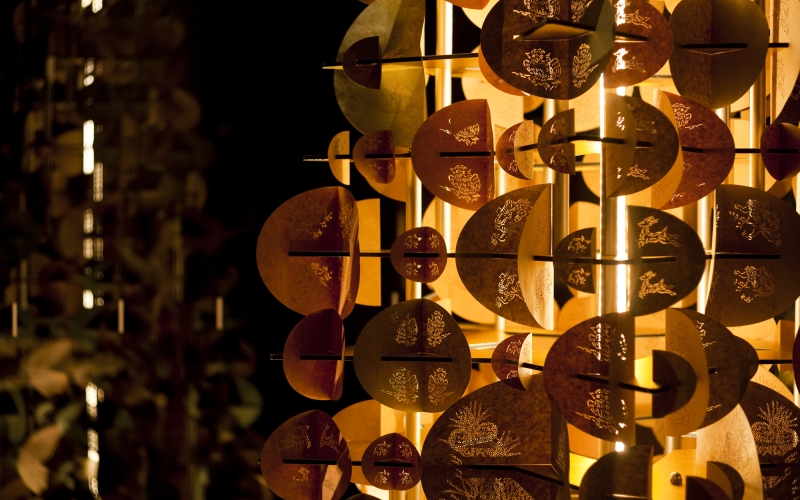 Christmas Celebrations at Andaz Tokyo
Click here for more information on the various restaurants at Andaz Tokyo and their activities for the festive season.
Overview of the activities:
- Pastry shop: Christmas cakes
Chef Masaki Okazaki, winner of the 2012 Mondial des Arts Sucrés prepared 5 exceptional Christmas cakes to accompany your celebrations.
Apricot, White Chocolate & Hazelnut Cake; Bûche de Noel; Blue Cheese, Honey & Fig Cake; Cassis Mont Blanc; Strawberry Short Cake
Orders for these unique pastries are already open and the pick-up period will be held from 19th of December to the 25th.
T 03 6830 7765
- Pastry Shop: Christmas Éclairs
6 exclusive holiday-edition flavours of Andaz's renowned éclairs are offered in beautifully-designed gift boxes. Perfect for a sweet gift to a loved one! 
The Christmas Éclairs will be offered from November 20th to December 25th.
T 03 6830 7765
- Festive Gift: 
3 quality gift assortments were carefully chosen by the Andaz team to make your Christmas shopping easier!
From November 20th to December 25th, 8 AM to 8 PM daily
T 03 6830 7765
- Festive Christmas Lunches at Andaz Tavern
Treat a loved one out to a gastronomic lunch at Andaz Tavern. Enjoy their European provincial cuisine in the form of a lunch box (roasted scallops, red-wine-cured duck breast, or beef cheek bourguignon along with other mouth-wathering gourmet morsels including foie gras mousse); or in a four-course lunch (starts off with cinnamon- and maple-roasted salmon and invites diners to choose lobster linguini, roasted chicken or beef tenderloin for the main entrée.) 
December 19 to 25, from 11:30 AM to 3 PM
T 03 6830 7739
- Festive Christmas Gala Dinners at Andaz Tavern
The Tavern, located on the 51st floor, offers a marvelous setting to celebrate the Christmas holidays. Four-, five-, and six-course dinners, including foie gras, otoro fatty tuna, sea urchin, monkfish, Miyazaki beef tenderloin (JPY 18,000, JPY 22,000 and JPY 25,000 respectively) will be served.
6 to 10 PM on December 19 to 21 and 23, and from 5:30 PM or 8:30 PM on December 22, 24 and 25. 
Reservations: tokyo.restaurant [at] andaz.com
T 03 6830 7739
- Festive Christmas Course and Christmas Party Plan at BeBu Café and Bar
2 special Christmas menus: four-course dinner (JPY 5,000/person) and party plan for four people and up (JPY 6,000/person).
Enjoy such savoury fare as cured salmon, avocado salsa, whole roasted chicken, roast beef and an apple pie soft ice cream sundae.
December 19 to 25, from 5 to 10:30 PM (to 10 PM on December 20 and 23; last orders taken 30 minutes before closing time)
T 03 6830 7739
- Christmas Holiday Hamper at AO Spa and Club
Offer luxurious pampering to a woman who is dear to you with a gift assorment composed of premium body-care products, featuring the Barcelona-based Natura Bissé brand. (JPY 11,680)
T 03 6830 7735
aospaandclub [at] andaz.com
Spa Treatments: Weekdays 10 AM to 10 PM ; Weekends and holidays 8 AM to 10 PM
Pool and Gym Hours: 5 AM to 10 PM daily
** All prices are exclusive of consumption tax.