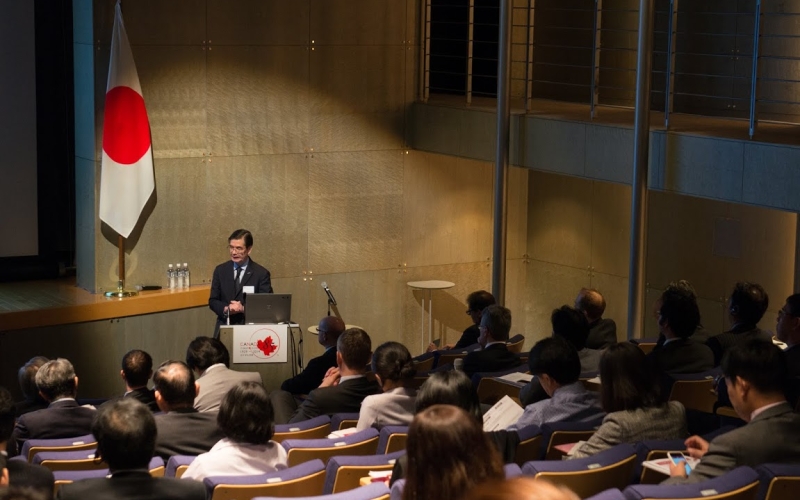 Canada Could Help Tweak Japan's PPP Scheme, Experts Say
Canada could help Japan enhance its private-public partnership (PPP or P3) program to attract global players and the two could collaborate on international PPP projects, experts said at a Public-Private Partnership seminar co-organized by the Canadian Chamber of Commerce in Japan (CCCJ) and the Embassy of Canada in Japan.
Amid rising national debt and fiscal deficits, governments around the world have turned to the private sector for their expertise as they seek to improve efficiency and cost effectiveness in delivering public infrastructure such as roads, bridges, hospitals and schools.
"It is entirely appropriate that this conference on PPP is held in the Canadian Embassy today, since this building is in fact a pure 'P3 itself" declared CCCJ Chairman, and lawyer Wilf Wakely to over 240 attendees from Japan's public and business sectors at the Canadian Embassy in Tokyo on May 22.  "It was entirely funded, designed, and built and is now maintained by the private sector," he continued. Wakely was a part of the legal team which put the deal together in the early 1980s long before the modern term "P3" was coined.
Japan and Canada could work together on international PPP projects as Canada could also benefit from Japan's technical expertise, said Mark Romoff, President and Chief Executive Officer of The Canadian Council for Public-Private Partnerships (CCPPP). 
While under the traditional procurement system contract winners are only responsible for design and construction, in PPP initiatives a consortium of corporations assumes risks, responsibilities and accountability for the entire process -- from design, finance, and construction, to maintenance and service for 25-35 years.
As payments from the government are made on delivery, PPP projects require private sector financing.
"Private financing makes it possible to bring capital market's principle to projects," said John McBride, CEO of P3 Canada.
Especially in Canada, fixed price contracts and penalties for delayed delivery enable PPP projects to be completed on time and on budget, Romoff noted.
In the last 20 years, Canada has embraced PPP and established a regulatory framework and systemic approach. The Canadian government mandates public infrastructure projects worth over CAD 100 million to be assessed for PPP suitability, and 15-20% of public works are PPP initiatives, according to McBride.
Canada is now a 'mature' P3 market in the sense that processes for bidding and selection are clear and proven and a deep knowledge base for effective/efficient P3 deal making is shared by both the private and public sectors.  "Canada's two decades of experience in developing a best-in-class model of P3s is paying off," added Romoff. Canada is now, together with the U.K. and Australia, a reference model for other countries developing P3 systems.  This includes governments and private organizations from the United States which is "set to be the next frontier for P3 expansion and one in which Japanese and Canadian expertise and financial muscle can compete effectively together" said Wakely.
"At the end of 2013 Canada's P3 market boasted 205 projects either in procurement or operational. By contrast the US, over roughly the same time span, had accounted for only 377 by the end of 2011, according to a Brookings Institution's report.  To put this in perspective, the US has a population and GDP base roughly 9.2 times as great as Canada's. During about the same period, Japan's P3 (or as it is called here "PFI") industry has produced 428 projects and to put this in perspective, Japan's GDP is 2.7 times Canada's with a population of 3.6 times that of Canada."
However, in the last couple of years, Japan's regional municipalities have shown surging interests in PPP, said Kazuo Ueda, president and founder of the Japan PFI/PPP Association. The association boasts a membership of some 850, comprised of both municipalities and corporations.
In order for Japan to successfully expand PFI projects, it needs to make its initiatives more attractive to potential participants, panelists said.
"Canada stole best practices from the world," Romoff said.
"We would like to share our experiences with Japan," he continued, adding he is optimistic about the future of PPP initiatives here as Japan has all the elements to succeed and the prime minister appears to be committed to expand PPP in the country.
The event also marked the beginning of a new partnership between the CCCJ and the Japan PFI/PPP Association. The two announced the launch of a cross-membership program in order to share best PPP and PFI practices and knowledge in their respective markets, and to encourage cross-border investment and collaboration in the two countries and beyond.
CCCJ Communications