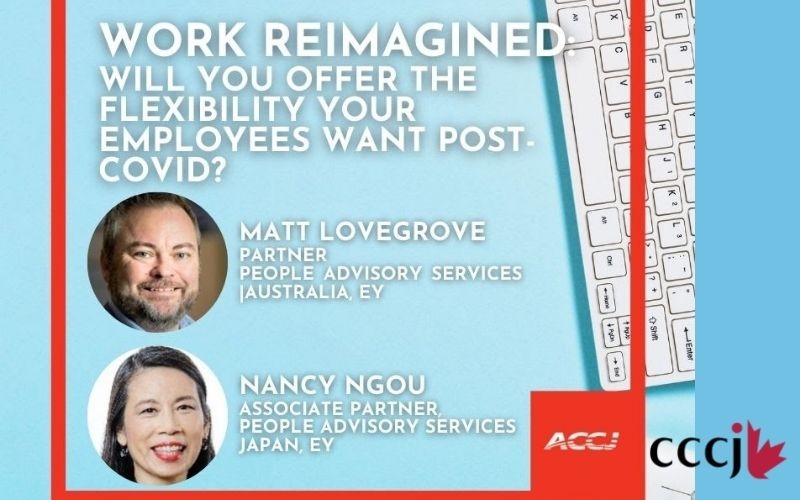 [Virtual] Work Reimagined: Will You Offer the Flexibility Your Employees Want Post-COVID? June 10 12:00-13:00
CCCJ is pleased to co-host [Virtual] Work Reimagined: Will You Offer the Flexibility Your Employees Want Post-COVID? June 10 12:00-13:00  along with the American Chamber of Commerce in Japan.
Join the LinkedIn Event Page to network with fellow participants in advance of the event!

Join us after the event for post-event networking! The virtual meeting room will be open for additional 30 minutes for you to further discuss the event or network with fellow participants.
Event Overview 
According to EY's latest global survey, 9 out of 10 employees want flexibility in where and when they work, and 54% of employees are likely to quit if they are not offered an ongoing approach to hybrid working. The EY Work Reimagined Employee Survey reflects the views of more than 16,000 employees, including more than 1,000 in Japan, and shows that for most industries and countries, there is no 'going back' to the old normal. 
In this next phase of co-existing with COVID, companies must learn to shift from surviving through the pandemic to thriving in the new normal. 
Please join us as EY leaders Matt Lovegrove and Nancy Ngou provide a deeper look at the Work Reimagined survey results and share insights into how you can design the hybrid working model your employees want and your business needs. 
About the Speakers 
Matt Lovegrove is an experienced senior business executive with over 25 years of experience within the ICT and Professional Services industries in Australia, Europe, and Asia. 
Matt and his team enable business success through engaged people - from talent acquisition, to talent development and deployment (including global mobility), to talent retention through reward and compensation planning, and HR performance improvement. 
He is an EY Partner, an Associate Member of CPA, and a former Chair of APMP in Australia New Zealand. He has a Bachelor of Economics. 
Nancy Ngou has 37 years of combined leadership, consulting, business operations and practical HR experience in the U.S. and Japan, and leads the Change Experience and Culture practice at EY. This includes change management, culture change, and diversity & inclusion services. 
Nancy has served on various business and diversity boards, including EY Americas' and EY Japan Consulting's D&I Advisory Boards and is a founding Board member of Ascend, the largest Asian American professional association. Nancy has been a Board Member of the American Chamber of Commerce in Japan since 2016. She has also been recognized as a Leading Ally Executive by OUTstanding in 2015 and 2020. 
Nancy earned an MSc in Environmental Management from the University of London, and an MBT in Business Taxation from the University of Southern California. She is a US CPA and holds certifications in Behavioral Science in Business from Columbia University, Inclusive Global Leadership from Robertson Center UC Berkeley and Global HR Professional from the HR Certification Institute.
EVENT DETAILS
THIS IS A VIRTUAL EVENT
This event will be hosted as a webinar. Instructions for joining the virtual meeting will be sent to registered attendees after the stated deadline.   
DATE:
Thursday, June 10, 12:00 - 13:00
SPEAKER
Matt Lovegrove, Partner, People Advisory Services |Australia, EY
Nancy Ngou, Associate Partner, People Advisory Services Japan, EY Hosting 
 
REGISTRATION 
Member Fee: ¥600
Guest Fee: ¥1,200
Registration/Cancellation Deadline: Thursday, June 10 (10:00)
NOTES
NOTE 1: This event is ON THE RECORD. 
NOTE 2: If you cancel after the stated deadline, the full meeting fee will be charged to your account.
NOTE 3: Please note that, as with all guest presentations, the content and comments of the speakers reflect their own opinions and do not necessarily represent the opinions or policies of the ACCJ.
Event Details
June 10 (Thu)


Registration Closed
12:00 ~ 13:00
Member 600 yen, Non-Member 1200 yen
Registration is Closed