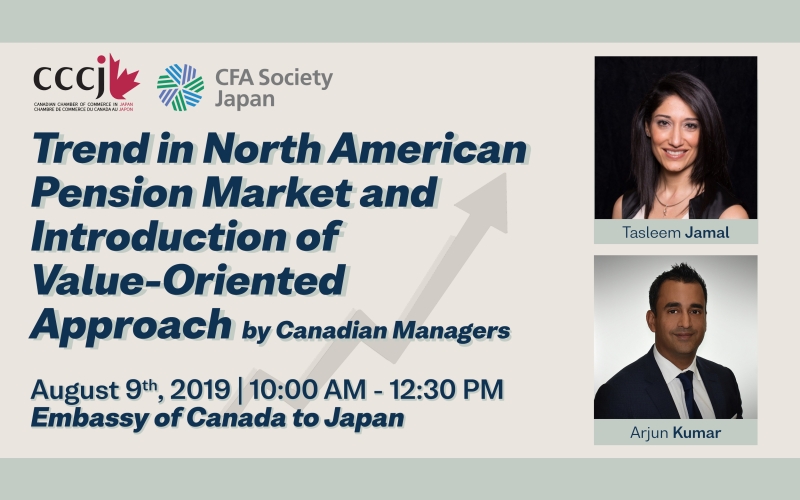 Trend in North American Pension Market and Introduction of Value-Oriented Approach
Trending in the North American Market...
CFAJ is hosting an event co-hosted by the CCCJ on trends in the North American pension market, with an introduction to a value-oriented approach (a unique approach to global equity investment by the Canadian manager).
North American pension funds have grown their assets more quickly than their global peers over the past decade. This was driven by the strengthening US dollar and a greater emphasis on investing in equities, which posted strong gains. Overall the world's biggest pension funds have also begun growing again. This growth is, in part, symptomatic of bond-buying programmes by the world's biggest central banks, known as quantitative easing, which have driven asset prices up in the decade since the financial crisis. Over the same period, low interest rates have made returns increasingly elusive for investors. Japan's Government Pension Investment Fund is an example of an investor that has improved returns after a shift in strategy. In 2014, the GPIF signalled a change into riskier assets and away from low-yielding bonds.
With that background, we look forward to introducing a value oriented investment approach by a Canadian firm has a proven track record of managing US and Canadian pension assets in global equity markets for over 30 years.
---
Event Details
Date: August 9, 2019
Venue: Embassy of Canada to Japan (North 4F)
Speakers: Tasleem Jamal, CFA; Arjun Kumar, CFA
Schedule:
10:00 Registration
10:15 Opening remarks by CFAJ
10:25-10:35 Update investment policy and strategy of pension funds in North America (Tasleem Jamal, CFA)
10:45-11:25 Unique approach in global equity investment by a Canadian Manager (Arjun Kumar, CFA)
11:30 Q&A
11:45 Closing remarks by CCCJ Chair, Neil van Wouw
11:50 Networking lunch 
12:30 Closing
*Schedule may differ slightly from the above listed*
**This event is on the record**
***Guests must present a government issued photo ID and submit to a bag check upon entry***
---
About the speakers:
TASLEEM JAMAL, B.Comm., BA, MBA, CFA
Ms. Jamal graduated from McMaster University with Bachelor of Commerce and Bachelor of Arts (Psychology) degrees in 1996 and with an MBA (Finance) in 1999. In 1998, Ms. Jamal joined Ernst & Young Investment Advisory Services as an Investment Analyst and in 2000 she was promoted to Vice President where, she provided investment consulting services and managed the performance reporting team of analysts.
In 2003, she joined Hewitt Associates as an Investment Consultant providing a variety of institutional client's investment consulting services including asset allocation, investment policy development, and manager reviews and searches. In 2007, she joined Burgundy Asset Management where she focused on client relationship management and business development for Burgundy's Canadian institutional clients. Ms. Jamal was appointed Vice President of the firm in July 2010. Ms. Jamal joined Sprucegrove in 2010 as Vice President, Marketing & Client Services and was promoted to Vice President, Head of Marketing & Client Services in 2014, overseeing all Marketing & Client servicing operations for North America. Ms. Jamal was appointed to the Business Management Committee in 2014, which is responsible for the day-to-day management of Sprucegrove.
Ms. Jamal is a CFA charterholder.
 
ARJUN KUMAR, HBA, MBA, CFA
Mr. Kumar graduated from the University of Toronto with an Honours Bachelor of Arts (Economics & Commerce) degree in 1998. Upon graduation, Mr. Kumar worked as an Account Manager for Procter & Gamble, focusing on the sales and marketing of consumer products. Subsequently, he joined Accenture as a senior consultant - working within the process and strategy competencies area.
Mr. Kumar obtained an MBA from the University of Toronto in 2002, and joined Sprucegrove as an Investment Analyst, focusing on global equities. In 2010, Mr. Kumar was promoted to Senior Investment Analyst, with a larger role in mentoring and training new analysts. As an analyst, Mr. Kumar's broad coverage included global companies, particularly in technology, banking, and emerging markets. Mr. Kumar was promoted to Assistant Portfolio Manager in 2013 and in 2014, Mr. Kumar was appointed Portfolio Manager and Co-Lead of the International Equities strategy, a role which he currently holds. Mr. Kumar joined the Sprucegrove Business Management Committee in 2015 with the responsibility for managing the day-to-day running of the business. In 2017, Mr. Kumar was appointed to the Sprucegrove Board of Directors, which oversees the strategic direction and compensation for the firm.
Mr. Kumar is a CFA charterholder.
Event Details
Free
Registration Closed
10:00 ~ 12:30
Embassy of Canada to Japan
Embassy of Canada to Japan 7 Chome-3-38 Akasaka, Minato City, Tokyo 107-0052
Free
Registration is Closed