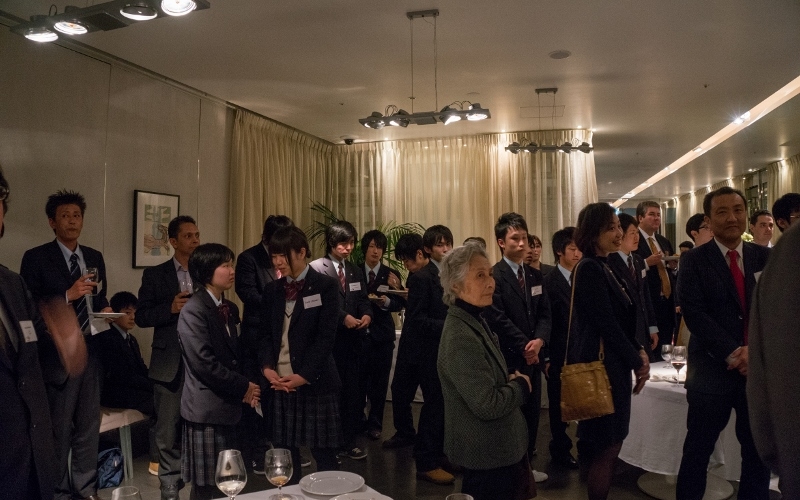 Tohoku Student Intern Project 2015 Evening Reception
The CCCJ in collaboration with NPO Ganbatte 365 will host an evening reception at the Tokyo American Club on Friday March 20th from 18:30-20:30 to celebrate the completion of the 2015 Tohoku Student Intern Project. The event will feature short presentations by students who participated in this program, a short performance by Katsura Sunshine, and a buffet prepared by Tokyo American Club (nomihoudai included). One ticket for a company representative is included for each intern hosted. Extra tickets can be purchased below. 
Event details:
Date: March 20th, 2015
Venue: Tokyo American Club
Time: 18:30 to 20:30
Since 2013, the Tohoku Intern Project has given students from Rikuzentakata a chance to participate in a week long internship in Tokyo. Rikuzentakata is a small city located on the Sanriku Coastline between Kesenuma and Ofunato in Iwate Prefecture that was devastated by the Great East Japan Earthquake and its ensuing Tsunami. This program has been proving very successful as some of the past students returned Tohoku with new career and personal goals.
This program cannot be run without the goodwill of the hosting companies, families, and sponsors. We thank you all greatly for your kindness, and generosity.
CCCJ members and non-members - tickets are sold for JPY 6,000 and can be purchased through the link below. Please join the CCCJ, NPO Ganbatte 365 and other distinguished guests to learn more about this project, students from Tohoku and Japanese/Canadian communities in Tokyo. 
Even if you can't make it to the event, you can still supplort the project through the below donation options. Every little bit helps!
Event Details
March 20 (Fri)


Registration Closed
09:30 ~ 11:30
Tokyo American Club
2-1-2 Azabudai, Minato-ku Tokyo 106-8649
6,000
Registration is Closed