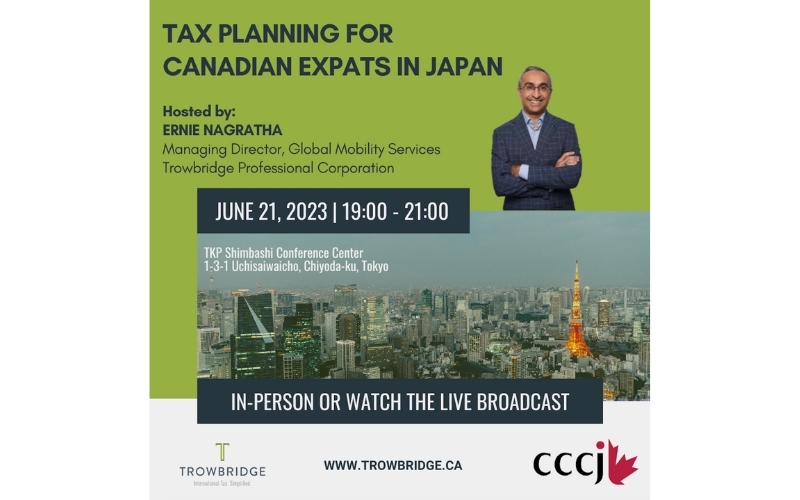 Tax Planning For Canadian Expats in Japan
Trowbridge, a new Corporate member, Managing Director and international tax expert Arun (Ernie) Nagratha is returning to Japan to present important updates and advice on navigating personal and often complex tax issues for Canadian expats living in Japan. Ernie will cover a wide range of topics from a Canadian perspective. Ernie will be joined by Masahiro Yamazawa, Partner at Altesta Corporation (Tokyo) who will cover any Japanese specific questions.
Topics include:
Canadian residency for tax purposes
Canadian and Japan filing requirements
Tax planning for Canadian expatriates, either departing Canada or arriving in Japan
Retirement planning
Ownership, sale and rental of property in Canada and Japan
Global Mobility considerations for relocating employees to and from Japan and Canada
Q&A: Time has been reserved at the conclusion of the presentation for Ernie and Masahiro to answer your individual tax questions.
Who should register?
Individual expatriates working/living in Japan with Canadian and Japanese personal tax interests as well as employers with employees relocating between Japan and Canada.
[Schedule]
Doors Open at 18:45
Seminar from 19:00 to 20:00 including Q&A session
Networking from 20:00 to 21:00
[Venue]
TKP Shinbashi Conference Center 12F (Saiwai Bldg., 1-3-1 Uchisaiwaicho, Chiyoda-ku, Tokyo <MAP>)
Light food and drinks will be prepared.
Zoom link will be sent to the registered participants a day before the seminar.
[Speaker]
Ernie Nagratha is a Canadian Chartered Professional Accountant, specializing in expatriate taxation as it relates to Canadians living and working around the world. Ernie joined Trowbridge Professional Corporation as a founding partner shortly after its inception in 2002 to build the firm's expatriate tax services practice. As a former expat living and working abroad, Ernie's real-life knowledge combined with his in-depth tax expertise has resulted in a growing international client base. Ernie shares his love of business and helping people when he travels the globe speaking to Canadian expats on how to navigate the often complex world of international tax.
​
Ernie has completed levels I and II of the Canadian Institute of Chartered Accountants In-depth Taxation Program and is a current member of the Institute of Chartered Accountants of Ontario. Ernie graduated with his Bachelor of Business Administration from the Schulich School of Business, York University, Toronto.
Event Details
June 21 (Wed)


Registration Closed
19:00 ~ 21:00
Member -- Free; Non-member ¥2,000 (In-person) | ¥1,000 (Online)
Registration is Closed