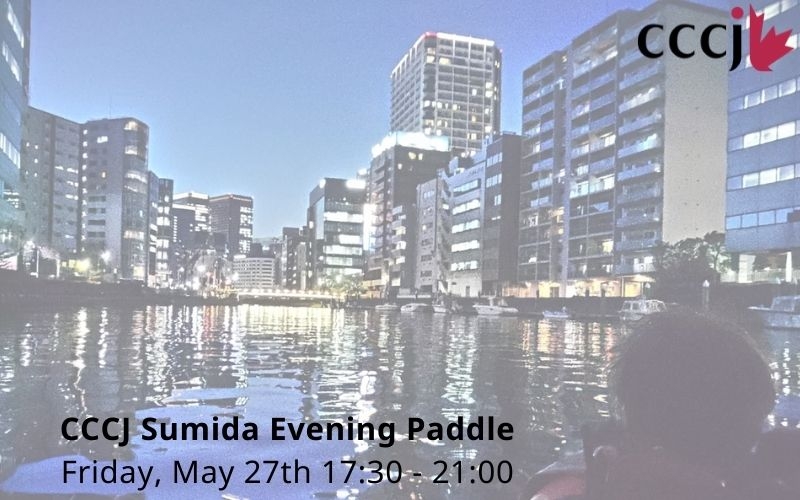 Sumida River Evening Paddle [NEW DATE]
You've seen Tokyo from the streets and from the skyscrapers, but have you ever seen this beautiful city from the river? Now's your chance! CCCJ is excited to present our very first Sumida River Paddling Adventure!
Join us for an evening paddle on the Sumida River and its surrounding canals. On professional rafting-grade inflatable boats, our gentle Canadian flotilla will cruise from Kachidoki bridge by the former Tsukiji Fish Market up the Sumida river, passing under its famous bridges and adventuring into its smaller feeder canals. As the sun sets and the city lights come out, we will learn about the history of Tokyo's waterways, and maybe even challenge each other to a good old Canadian paddling contest.
The tour will be led by expert river guide Lincoln Taylor.
Meeting Point:
Kachidoki Bridge, Tsukiji side of the river (a five-minute walk from Tsukiji metro station). When you get to Kachidoki Bridge, look for the Canadian flag.
What to bring:
Wear clothes that can get wet, and bring a small towel and change of clothes.
Bring a waterproof case for your phone.
Note:
You must be able to swim to join this event. You do not need any river sports experience. We will not be going in the river. We will stay in the boats. We recommend a change of clothes because you may get wet from water splashing off the paddles.
Maximum capacity for this tour is 15 people. Children aged 7 or older are welcome.
The tour will be postponed in case of rain. We will notify you by noon on the day of the tour.
Event Details
May 27 (Fri)


Registration Closed
17:30 ~ 21:00
Members -- 9,000 yen, Non-Members --10,000 yen, Children -- 6,000 yen (7yo to 12yo)
Registration is Closed