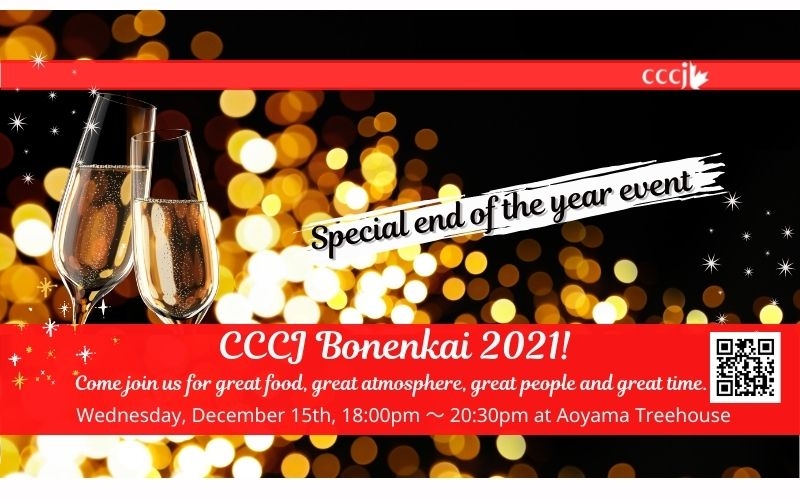 [Sold Out] CCCJ Bonenkai 2021!
[Unfortunately, only members and guests registered can join. Appreciate your understanding and we look forward to seeing you at next event!]
Time flies, it's already the end of the year!!! CCCJ events committee is happy to announce the long-waited CCCJ Bonenkai on Wednesday, December 15th at Aoyama Treehouse in Aoyama 1chome!
Let's celebrate the end of the year with members and friends at one of the stylish and sophisticated event locations in Tokyo! Please make a registration now! Details are:
Date: Wednesday, December 15th
Time: 6:00PM to 8:30PM
Venue: Aoyama Treehouse (Closest station is Aoyama 1-chome on Ginza and Oedo Lines)
*The event will be held at 2nd floor event space "Engawa" at Aoyama Treehouse.
Admission: Members -- 8,000 yen, Non-members -- 10,000 yen. (Including networking opportunities, fun times and all you can drink + food course)
Special Note:
1. There will be a temperature check at the entrance, anyone with a temperature above 37.5C will not be allowed to enter. You will be asked to sanitize your hands with alcohol and be required to wear masks at all times except when eating or drinking. Appreciate your cooperation.
2. While we don't expect any problems, please be aware that the event may be postponed if there are changes in the situation regarding the coronavirus, such as an increase in the local spread of COVID-19, incidences of COVID-19 at Aoyama Treehouse or among its members, guests or staff, or changes in the recommendations or regulations of the pertinent health officials.
Event Details
December 15 (Wed)


Registration Closed
18:00 ~ 20:30
Members -- ¥8,000., Non-Members -- ¥10,000.
Registration is Closed