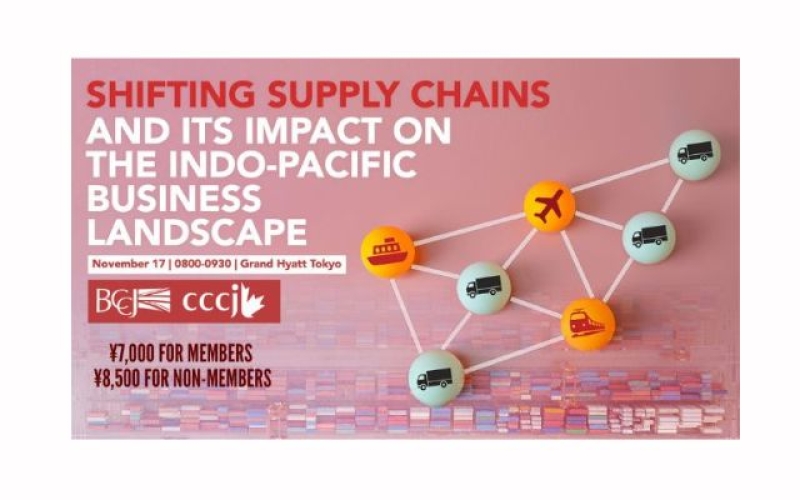 Shifting Supply Chains and its Impact on the Indo-Pacific Business Landscape
We are pleased to be collaborating with the The British Chamber of Commerce in Japan (BCCJ) to bring you a hybrid panel discussion breakfast event on Thursday, November 17 at the Grand Hyatt Tokyo.
Even before the world was faced with the pandemic, fundamental factors such as decarbonisation and the trade war initiated by former US President Trump against China and Europe were already key disruptions to global supply chains. The Covid-19 crisis only added to the existing geopolitical, labour and ecoclimate issues, bringing the disruption on supply chains to a whole new level, frequently resulting in an interruption of goods and services across the world. Followed by the invasion of Ukraine by Russia, and the subsequent sanctions against Russia, this then added a further dimension to the ongoing disruption. Although signs are now pointing to a better year in general for supply chains in 2023, we must remain cautious of the other potential new threats, such as a potential conflict involving Taiwan.
Join us on November 17 to deepen your understanding of what it is that's driving supply chains today and the key challenges facing them, and learn how other business leaders are trying to cope with the ever-shifting state of global supply chains. Our cross-industry panel will discuss and share insights into how the recent changes in supply chains are impacting trade, production, distribution and consumption of goods in the region, what direction this might take in the months and year to come, and most importantly, what this will mean for your business.
Moderated by Stephen Nagy, Senior Associate Professor at International Christian University and a Governor at CCCJ, panellists will include Yukinori Mizumoto, General Manager, Global Procurement, Nitto Denko, Dr Amitendu Palit, Senior Research Fellow and Research Lead on Trade and Economic Policy at Institute of South Asian Studies, National University of Singapore, and Takuji Okubo, Managing Director at Japan Macro Advisors.
[SPEAKERS]
Yukinori Mizumoto | General Manager, Global Procurement, Nitto Denko

Mr Yukinori Mizumoto started his career at Nitto Denko Corporation in January 2016 as General Manager for Hygiene Business. Mr Mizumoto built over 25 years of experience in a Global FMCG Giant. He started his career as a mechanical engineer in 1989, shift into project management, then extended into innovation program management. He also built multi-geographic experience through the career as Japan, Germany, US, Thailand, China and Singapore. Mr Mizumoto moved to Nitto EMEA in April 2018 for leading new business development.
Dr Amitendu Palit | Senior Research Fellow & Research Lead (trade & economic policy), Institute of South Asian Studies, National University of Singapore

Dr Amitendu Palit is Senior Research Fellow and Research Lead (Trade and Economics) at the Institute of South Asian Studies, National University of Singapore. He is an economist specialising in international trade and investment policies, FTAs, supply chains, connectivity, cross-border data flows and the Indian economy. He sits on the World Economic Forum's Global Future Council on Trade and Investment. He is Senior Research Fellow (Honorary) at the Wong Centre for Study of MNCs and Adviser for Athena Infonomics. Earlier, Amitendu worked for several years in the Ministry of Finance, Government of India, and in the Ministries of Industry and Civil Supplies. He handled macroeconomic policies, including trade, investment, industrial development, SMEs, entrepreneurship and futures trading. He wrote annual economic surveys and participated in annual budgetary consultations. He was on Advisory Committees of the Planning Commission of India and the ILO.
Takuji Okubo | Managing Director, Japan Macro Advisors

Takuji is one of Japan's leading business economists. Managing Director at Japan Macro Advisors, a boutique consultancy he founded in 2012, and CFO at Zen Place Inc., the largest operator of Pilates Studio in Japan.
After graduating from Tokyo University where he received a prestigious Inoue Scholarship, Takuji began his career in 1997 as an Economist at Goldman Sachs Securities in Tokyo, Japan. After being promoted to Senior Economist in 2000, he left Goldman Sachs in 2003 to pursue graduate degrees that include an MBA from INSEAD (France) and MSc in Economics from UPF (Spain). He spent two additional years at UPF as a PhD candidate in Finance. Returning to the financial industry in 2007 via Merrill Lynch Japan, he worked as a Senior Economist/Senior Director until he joined Societe Generale (SG) as a Chief Economist in 2010. In 2012, he founded Japan Macro Advisors, a boutique consulting firm he manages to this day. Other roles included North Asia Director at The Economist Corporate Network, a forum for senior business leaders and a part of The Economist Group, and Global Head of Thought Leadership at NEC, one of leading IT companies in Japan.
Dr. Stephen Nagy | Senior Associate Professor, Department of Politics and International Studies, International Christian University, Tokyo [Facilitator]

Dr. Stephen Nagy received his PhD in International Relation/Studies from Waseda University in 2008. His main affiliation is as a senior associate professor at the International Christian University, Tokyo. He is also a fellow at the Canadian Global Affairs Institute (CGAI); a visiting fellow with the Japan Institute for International Affairs (JIIA); a senior fellow at the MacDonald Laurier Institute (MLI); and a senior fellow with the East Asia Security Centre (EASC). He also serves as the Director of Policy Studies for the Yokosuka Council of Asia Pacific Studies (YCAPS) spearheading their Indo-Pacific Policy Dialogue series.
He is currently working on middle power approaches to great power competition in the Indo-Pacific.
Event Details
November 17 (Thu)


Registration Closed
08:00 ~ 09:30
Members -- ¥7,000. Non-Members -- ¥8,500.
Registration is Closed