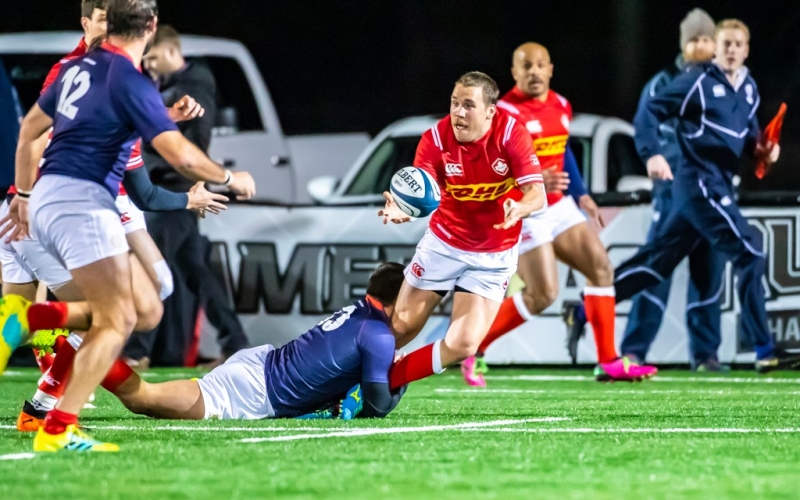 Rugby Team Canada Fukuoka Pre-Match Lunch Event
Join fellow Team Canada rugby fans for a fun lunch event in Fukuoka City on September 26, Team Canada's first match in Rugby World Cup 2019. The event is open to the public – book now! We expect fans from overseas, from other parts of Japan, and some special guests to attend!
The venue is a comfortable and popular restaurant located within convenient reach of the stadium. A set meal of "mizutaki," a healthy chicken and vegetable hot-pot dish and a local specialty of Fukuoka, and one beverage included. Additional alcohol and non-alcoholic drinks are available (not included).
Transportation to the stadium: The restaurant is a 4-minute on foot to Nakasu-Kawabata Subway Station. It takes 16 minutes to get to Fukuoka Airport Station. Then transfer to a special stadium shuttle bus (15 min). Total time: 35 minutes.
Team Canada vs. Italy Match - RWC 2019
Match time is 16:45 @ Fukuoka Hakatanomori Stadium
Event Details
Date: September 26 (Thu.)
Time: 12:00~14:00
Venue: Hakata Mizutaki Toriden / 博多 水炊き とり田 博多本店
Tel.: 092-272-0920
Map link: https://goo.gl/maps/xZZrgCSaqioohTDT6
Price per person: ¥5,000 (including tax, service)
Includes: Set lunch and one beverage
Notes
• Menu substitutions for special diets and children's meals are NOT available in advance or on the day.
• Non-smoking only
Reservations and Pre-payment (required)
Payment methods: Bank transfer or Paypal. (*payee must cover all fees). You will be sent payment details after reserving seats using this form. This form is the ONLY way to book seats and all seats must be paid for by Aug. 23.
RESERVATION FORM: https://docs.google.com/forms/d/e/1FAIpQLSe5OfOwuzxx1VAKQ7uzzd1o615loARP5KCrfEi_pwuT25u-KA/viewform
Cancellation policy:
Refund (minus cost of transfer) available until Sep.16. No refunds from Sep. 16 onwards.
-----------
Rugby Team Canada Fukuoka Pre-Match Lunch Event
Produced by Fukuoka Now & The Canadian Chamber of Commerce in Japan and with support from the Fukuoka-Canada Society
Event Details
September 26 (Thu)


Register by

Aug 23rd 2019

12:00 ~ 14:00
For registration, click here!
Venue: Hakata Mizutaki Toriden / 博多 水炊き とり田 博多本店 Tel.: 092-272-0920
Price per person: ¥5,000 (including tax, service)