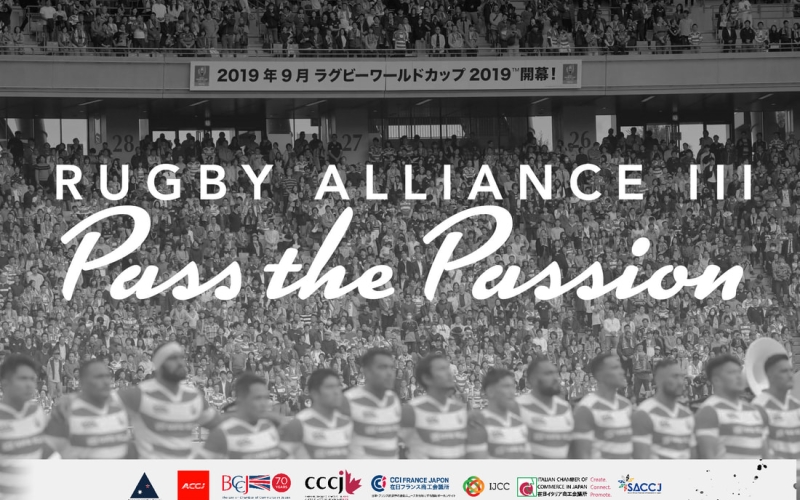 Rugby Alliance III:Pass the Passion
The Rugby World Cup (RWC) 2019 is already delivering a huge impact for Japan. According to World Rugby, the RWC 2019 has been making records with the biggest ever official merchandise program. Fan engagement is also high, with 270,000 already having attended Fan Zones as of late September, and a 25.5 rating for NTV broadcast of opening match. The Japan Rugby Football Union has described the RWC 2019's final whistle as merely the starting point for their ambitious 10-year growth plan, which includes revamping the domestic professional league. We can expect legacy and leverage to be key topics in this session.
Come and join the Rugby Alliance for its third installment where we will exchange stories from the RWC 2019 from a variety of stakeholders as they explore the impact of the tournament and highlight examples of successes and learnings. With the RWC engaging a broad range of constituents and industries, including accommodation, transport, tourism promotion, sports hospitality, local communities, and the reception of inbound tourists in regional Japan, there are a number of key lessons learned from this major tournament.
 
With the Tokyo 2020 Olympic and Paralympic Games following soon after the RWC, the international and local business community will be wishing to "pass the passion" from RWC19 to ensure that the Games are a success and demonstrate a return on the significant investment required of the host city and country. This luncheon will provide best-practice examples from official and non-official sponsors to inspire more businesses to participate in the excitement.
Join us on November 14 for what will be a lively and passionate discussion on the power of sports, mega events, and how they can be leveraged to Japan's— and all of our—advantage.
Date: Thursday, November 14, 2019
Time: 12:00–14:00
Venue: Grand Hyatt Tokyo, Coriander Room
Speakers: Matthew Walker, Chief Marketing Office, AIG Japan
Katsuyuki Kiyomiya, Vice President, Japan Rugby Football Union
Additional panelists and moderator to be confirmed soon, so please stay tuned for updates!
 
* Any cancellation prior to the deadline will be subjected to processing and administrative fees.
_______________________________________________________________
What is the Rugby Alliance?
'The Rugby Alliance is a coalition of 8 national foreign Chambers in Japan. Our mission is to support Japan's delivery of the 2019 Rugby World Cup, fostering a legacy of more inclusive communities that embrace opportunities for international business and exchange.'
"Launch of Rugby Alliance, coalition of 8 international Chambers of Commerce, supporting Japan's Rugby World Cup 2019" HERE.
Event Details
November 14 (Thu)


Registration Closed
12:00 ~ 14:00
Grand Hyatt Tokyo
Grand Hyatt Tokyo, Coriander Room
Members: JPY8,600 Non-members/Guests: JPY10,600
Registration is Closed