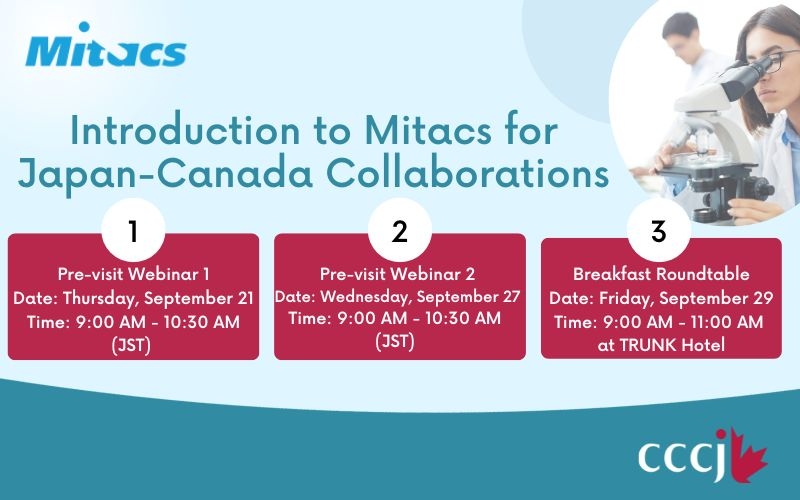 Pre-visit Webinar 1: Introduction to Mitacs for Japan-Canada Collaborations
With a collaboration with Mitacs, we are thrilled to extend a special invitation to you for an exclusive opportunity to meet Dr. John Hepburn, CEO; and, Charles Achampong, VP International, of Mitacs. Mitacs is a Canadian non-profit organization that plays a pivotal role in fostering international innovation collaboration. Through their accessible funding programs, they facilitate partnerships between Canadian academic and private innovators with their global counterparts. Mitacs enables stakeholders, both from Canada and abroad, to work together on cutting-edge projects, driving innovation in all sectors and disciplines.
Growing on their successful partnerships with Japan Society for the Promotion of Science (JSPS) and National Institute of Advanced Industrial Science and Technology (AIST), Mitacs is eager to increase momentum of Japan-Canada collaborations funded-by their programs. They are elated to connect with the network of CCCJ to provide awareness of how our members can utilize their programs and infrastructure to increase activity between our countries. Please see below for the events that will allow you to access these opportunities: 
Pre-visit Webinar 1: Introduction to Mitacs for Japan-Canada Collaborations
Date: Thursday, September 21, 2023
Time: 9:00 AM - 10:30 AM (Japan Standard Time)
Mitacs plays a pivotal role in supporting collaboration between academia, industry, and government to drive innovation and address global challenges. During the pre-webinar on September 21 and 27, you will receive a comprehensive introduction to Mitacs, its programs, and the exciting opportunities it offers for Canadian and Japanese businesses.
On September 29, you will have the privilege of engaging directly with the Mitacs CEO and VP International. They will share their insights for innovation in Canada-Japan partnerships, highlight success stories, and answer your questions. They will also welcome hearing from you on the current collaborations you are leading between Canada and Japan. 
This is an excellent opportunity to:
- Gain insights into Mitacs' initiatives and how they can benefit your organization.
- Network with fellow members of the Canada Chamber of Commerce in Japan.
- Collaborate with Mitacs to access resources for research and innovation.
* Webinar 1 and Webinar 2 will be the same presentation. MS Teams link will be sent to the registered participants prior to the respective webinars.
Event Details
September 21 (Thu)


Registration Closed
09:00 ~ 11:30
Admission -- Free of Charge
Registration is Closed