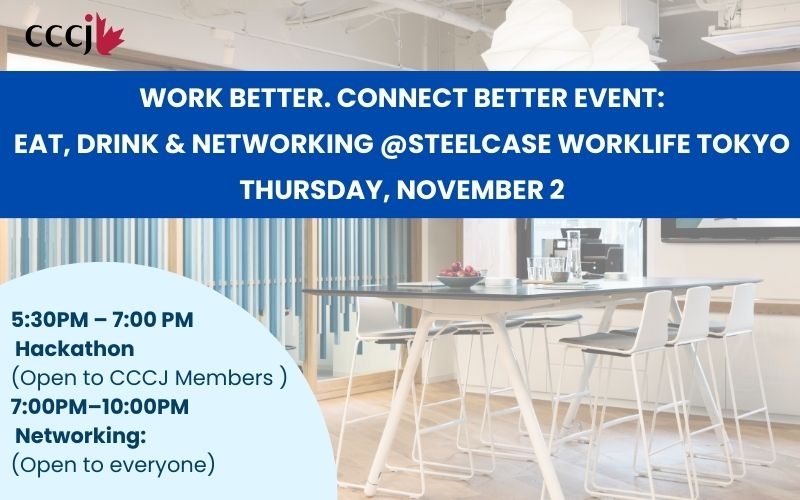 [POSTPONED] Work Better. Connect Better Event: Eat, Drink & Networking
[This event has been postponed to early next year. Please stay tuned for the updates!]
Come and join a great opportunity with food and drinks at Steelcase's WorkLife Tokyo showroom space.
You can also have a chance to try out Steelcase's furniture and learn on how ergonomics is a key for more efficiency and satisfaction.
Led by the CCCJ Events Committee, this event will be held with Hackathon first to know about the committees,
followed by the networking event for us to know about each other even more and also to meet members who are meeting for the first time.
Let yourself relax, enjoy, and make yourselves relaxed at home on this evening before the 3-Day long weekend by tying out our chairs, desks, and other furniture.
We would like to invite every member, but is a first come first served basis as we do have a limited amount of space available.
Now is the time to sign up!
Date: Thursday, November 2nd, 2023
Schedule:
5:30 PM – 7:00 PM (Hackathon: Open to CCCJ Members only)
7:00 PM – 10:00 PM (Networking: Open to everyone)
Place:
WorkLife Tokyo
5−2−32 Kowa Hiroo Bldg 4F, Minamiazabu, Minato-ku, Tokyo (Map)
(Closest Station: Hiroo)
Tickets:
Hackathon -- Free of Charge
Networking -- ¥6,000 for CCCJ and participating Chambers'members, ¥7,500 for Non-members
Program
17:30 Hackathon
19:00 Drinks, Food, Networking
21:45 Wrap Up
Event Details
November 02 (Thu)


Registration Closed
17:30 ~ 21:30
¥6,000 for Members, ¥7,500 for Non-members
Registration is Closed