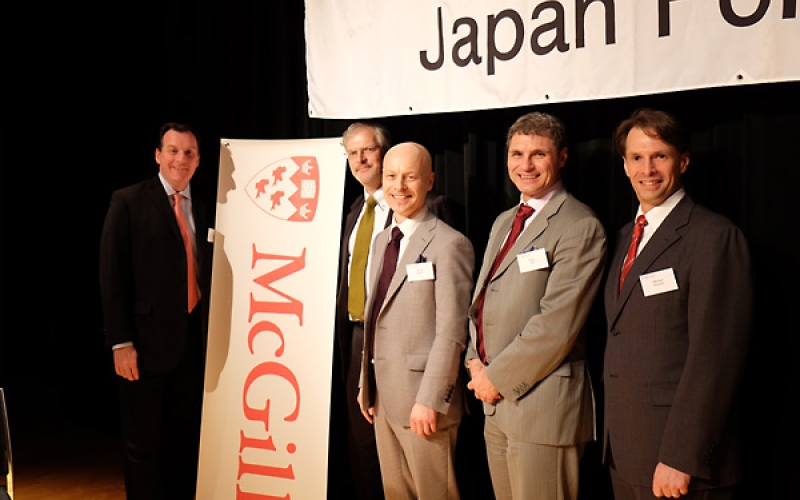 McGill Forum & Shinnenkai 2016
McGill Forum & Shinnenkai 2016
The McGill Alumni Association of Japan (MAAJ) and the McGill Japan office are pleased to announce and invite CCCJ members to the 2016 McGill Japan Forum & MAAJ Shinnenkai.
Event Details: 
Date: Thursday, January 14th, 2016
Time: Doors open at 18:30, Forum --- 19:00 - 20:00, Shinnenkai --- 20:00 - 22:00, Nijikai --- as necessary
Venue: Tokyo American Club, Montreal Room 
Cost: 6,500 yen via Peatix, 7,000 yen at the door
For event inquiries: Please contact Ms. Noriko Ishida

noriko.ishida

[at]

mcgillmbajapan.com

>
Event registration: To register for the event, click the following link: http://peatix.com/event/136926
The topic of this year's McGill Japan Forum is "New Wave of Globalization of Japanese Companies" and will be a panel discussion (in English) on the globalization of Japanese corporations and current challenges for Japanese corporations in the global economy. How is it different from past rounds of internationalization? What effects will it have on companies and employees?
Panelists include:
Ryo Hirooka, CFO, Hoya Corporation
Francois-Xavier Leinhart, Senior Managing Corporate Officer, LIXIL Corporation, CEO LIXIL Kitchen Technologies
Quentin O'Mahony, General Manager, JAL CAE Flight Training
This will be followed by the MAAJ Shinnenkai where you network and share your thoughts on globalization. Food and four drink chips are included in admission. Further drink tickets may be purchased at the door for JPY 500.
Guests and members of the general public are welcome. You may attend either the Forum or the Reception or both.
Purchase in advance to save JPY 500. Tickets will be JPY 7,000 at the door.
Event Details
McGill Forum & Shinnenkai 2016
Registration Closed
18:30 to 22:00
Tokyo American Club
TAC - 2-1-2 Azabudai, Minato-ku Tokyo
As outlined above
Registration is Closed