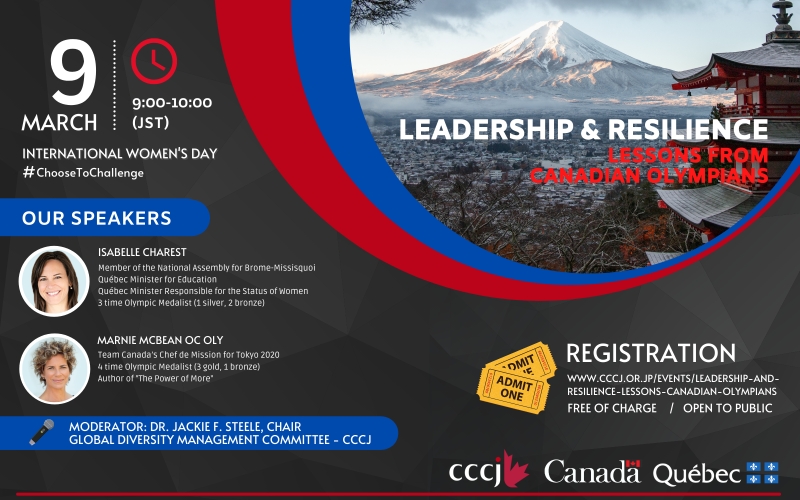 Leadership and Resilience: Lessons from Canadian Olympians
Leadership et résilience: L'expérience de deux Olympiennes du Canada / Leadership and Resilience: Lessons from Canadian Olympians
The CCCJ, the Quebec Delegation in Tokyo and the Embassy of Canada in Japan are proud to co-host this webinar featuring two Olympians sharing their expertise in leadership and mentoring. 
Date: Tuesday, March 9th 9:00 - 10:00 JST
Speakers: 
Quebec Minister for Education, Minister Responsible for the Status of Women and Olympian, Isabelle Charest 
Team Canada's Chef de Mission for Tokyo 2020 and Olympian Marnie McBean OC OLY
Moderator: CCCJ Governor and GDM Committee Chair Dr. Jackie F. Steele 
Fee: Free
This webinar will include speakers presenting in French, with English simultaneous translation.
We'll have a moderated live Q&A with the audience. If you'd like to submit your questions for Q&A prior to the event, please send them by email to info [at] cccj.or.jp
Questions can be accepted in English, French and Japanese.
Registration will be open until March 8th. 
Three time Olympic medalist, Isabelle Charest has worn many hats during her professional and sports career. She was Canadian mission leader at the Pyeongchang 2018 Olympic Games, assistant mission leader in 2016 in Rio and part of the Canadian speed skating team from 1989 to 2002, during which time she took part in the 1994, 1998 and 2002 Olympics.
Still passionate about sports, and now a mother of two, Isabelle Charest is particularly interested by nutrition and communications, two fields in which she was active professionally. In 2011, she co-founded Nellicom, a public relations and communications company, where she was manager and communicator. She has also worked in TV. During the 2014 Sochi Olympic games, she hosted the Champions' ceremony broadcast on Radio-Canada and she also co-hosted the broadcast for Turin games in 2006. For the better part of ten years, she was host and commentator for various Bell Media stations. At the time, she was also co-owner and manager of a fitness centre. She also worked for the Canadian Olympic Committee where she coordinated special event and athlete support programs.
Marnie McBean is one of Canada's most decorated Olympians, and an expert in turning potential into performance. As one of only two Canadians ever to win three Gold Medals in the Summer Olympics, she is used to performing under pressure. Her twelve World and Olympic Medals bear witness to this.
After a record-breaking rowing career, the Canadian Olympic Committee hired her as a Specialist in Olympic Athlete Preparation and Mentoring. She worked closely with five Canadian Olympic Teams, both summer and winter, as they prepared to compete and "own the podium".  Regardless of their sport, she worked to prepare them emotionally and psychologically, helping to transform their potential into reality. Her job, simply, is to ensure the highest performance possible.
Event Details
March 09 (Tue)


Registration Closed
09:00 ~ 10:00
Registration is Closed