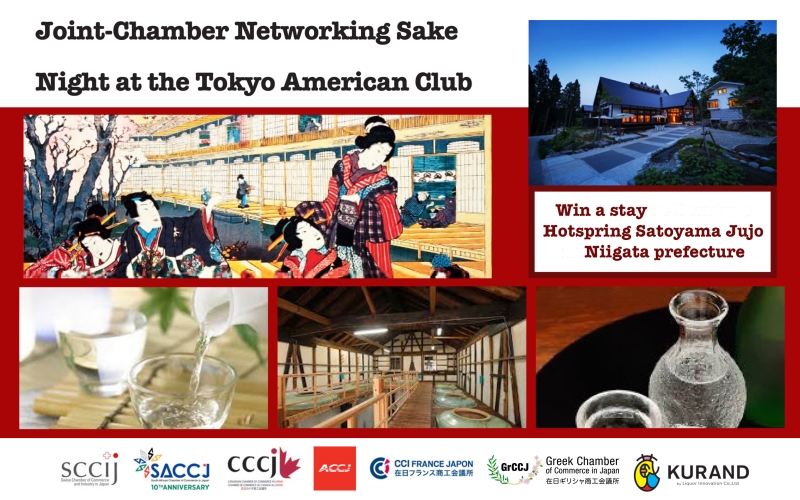 Joint Chamber Networking Sake Night at the Tokyo American Club
Do you love Sake?
Come and join our 3rd edition of the Joint Chamber Networking Sake Event along with the ACCJ, CCIFJ, SACCJ, SCCIJ and GrCCJ!
Mingle and network with other chambers' members interested in Japanese food and culture. 
Japanese Sake, or Nihonshu, is globally recognized as an essential part of Japanese Cuisine, but few realize how much varieties of sake exist.
A few famous sake brands have achieved international recognition, but many smaller breweries, with less means but an equal passion for their craft, also offer an excellent product often more influenced and marked by the area where it is produced. This event is about the Japanese "Terroir" the word used by the French to describe the colors, ingredients, traditional processes and specific environmental characteristics (soil, air, sun, water) that give a product a truly local flavor.
This event will provide participants with a unique opportunity to discover a wide variety of nihonshu, including some of the most prestigious brands as well as a special selection of local sake (jizake), to offer experts and amateurs alike the opportunity to differentiate between the flavors and textures of each area.
 
Some of the participating breweries are :
- ASAHI SHUZO SAKE BREWING CO.,LTD
- EH SHUZO,INC.
- TATENOKAWA, Inc.
- Kirinzan Shuzo Co., Ltd.
- Nagai Sake Inc
- KUNIMARE SHUZO INC.
- KIRISHIMA SHUZO CO.,LTD
- Usui Shop Co. Ltd.
- Honke Matsuura Brewing Co., Ltd.
and many more!
There will be door prizes including Sake and a Traditional Japanese Inn (Ryokan) stay.
Event Details
March 22 (Fri)


Registration Closed
18:30 ~ 21:30
Tokyo American Club
Tokyo American Club New York Ballroom 2 Chome-1-2 Azabudai, Minato, Tokyo 106-0041
¥9500 for members ¥ 10500 for non-members
Registration is Closed