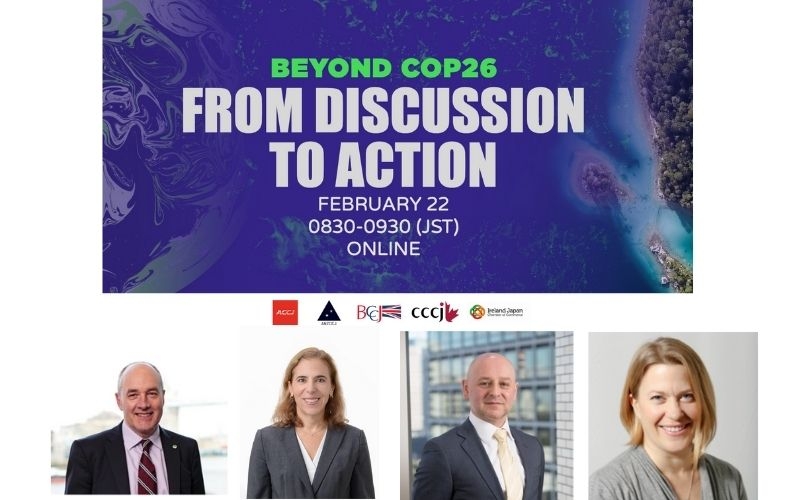 Joint Chamber COP26 event series: Beyond COP26: from discussion to action
After many months of fanfare, COP26 concluded on November 13 2021 with the nearly 200 Parties agreeing on the Glasgow Climate Pact. But what does this agreement actually entail and how will its contents impact business? Does the GCP meet, exceed or – if Greta Thunberg is to be believed – fall short of expectations? Now that its "wheels up" for COP26 delegates, what will the actual market response be (if any)? How will countries turn these promises into action, and what will be the role of the private sector in achieving these targets?
On the morning of Tuesday 22 February, BCCJ Executive Committee (Excom) Responsible Business taskforce leader Tove Kinooka will sit down with industry leaders to review the key outcomes of COP26, and share takeaways from the private and public sectors.
**********
This "Beyond COP" series of events is being convened by a coalition of international Chambers of Commerce in Japan (ACCJ, ANZCCJ, BCCJ, CCCJ, IJCC) with the aim of promoting understanding of and action on critical climate issues. Pre-COP26, the coalition's aim was to build awareness and engagement ahead of the conference; the group now moves into review mode, to provide helpful analysis of key conference outcomes, and co-create practical, industry-specific action points for businesses of all sizes.
**********
The Zoom link will be sent to the participants a day before the event.
Speakers
Alistair Dormer | Representative Executive Officer, Hitachi, Ltd
Alistair was appointed Representative Executive Officer in Hitachi, Ltd. leading the Mobility Sector in April 2019. In addition to his role leading the Mobility Sector, in April 2021 Alistair was appointed as Chief Environmental Officer of Hitachi Ltd and Chairman of Hitachi Europe Ltd.
Alistair joined Hitachi in 2003 firstly to establish Hitachi's Rail business in Europe. He was promoted to CEO of Hitachi Rail Europe Ltd in 2009 and promoted to Senior Vice President and Executive Officer Group CEO, Rail Systems Business Unit Hitachi Ltd April 2014, responsible for Hitachi's global rail business. As Group CEO Rail Alistair transformed the Rail Business to become Global number 4 in the sector, growing Global sales by over 300% through both strategic M&A and strong organic growth.
Alistair joined Hitachi from Alstom Transport where he held the position of Business Development Director and prior to this he worked for British Areospace in the defence sector and the Military.
Jenifer Rogers | General Counsel Asia, Asurion
Jenifer Rogers is General Counsel of Asia for Asurion based in Tokyo. She was elected as an External Director of Mitsui & Co. Ltd in 2015 as the first foreign female director of a Japanese trading company.  She was also elected as an External Director to the Board of Kawasaki Heavy Industries, Ltd. in June 2018 as their first female and foreign director and to the Board of Nissan Motor Co., Ltd in June 2019 and serves on its Audit and Compensation Committees. Before joining Asurion in 2012, Jenifer worked at the Bank of America Merrill Lynch for eighteen years in a variety of senior legal roles in various cities including Dublin, Hong Kong, London, Mumbai, New York and Tokyo.
Jenifer was elected as the president of the ACCJ in January in 2021, and also serves on other not-for profit boards. Since June 2016, Jenifer has been elected and served on the Georgetown University Alumni Association Board of Governors and in May 2018 was appointed by the American Ambassador of Japan to the Japan US Education Commission (Fulbright Japan) as Treasurer. She became a member of the Board of the U.S.-Japan Council (Japan) in April 2019. Jenifer is a founding member of the Japan Center of the Asia Society and a member of its Arts Committee. More recently in November 2020, she was appointed to the Board of Councilors of the Okinawa Institute of Science and Technology Graduate University.
Aragon St-Charles | Global Head of ESG, Dentons
Aragon St-Charles is the Global Head of ESG for Dentons – the world's largest law firm. In this role, Aragon, who reports directly into the Global CEO, works with Global Leadership to implement the firmwide ESG strategy, and collaborates with the Firm's Global ESG Steering Committee to develop and deliver market leading ESG products and services to our clients. 
Aragon is also a qualified permaculture teacher, a recognised and published expert in aquaponics (a type of agriculture that combines aquaculture and hydroponics into a synergistic closed loop system), and a passionate advocate for business sustainability management, sustainable agriculture and agritecture, and ESG matters more broadly.
Tove Kinooka | Co-Founder, Global Perspectives K.K. / BCCJ Responsible Business taskforce [moderator]
Tove is Director and Co-founder of Global Perspectives K.K., a Japan-based boutique sustainability integration consultancy. She works across Asia and Europe with major global corporations, SMEs, NPOs, and social venture organizations to help build sustainability-focused organisational cultures that amplify and accelerate actions for a sustainable future.
Her experience spans a wide range of industries, from pharmaceutical to IT, automotive, and food. She is a certified Business Sustainability Management Consultant (Cambridge Institute for Sustainability Leadership) and Organizational Change Consultant (Ashridge-HULT Business School).
Tove is an Executive Committee member of the BCCJ, where she leads the Responsible Business taskforce in designing strategy and delivering events on sustainability, leadership & organisational change. She is also a member of the Management Committee of Refugee Empowerment International, (REI).
Event Details
February 22 (Tue)


Registration Closed
08:30 ~ 09:30
Members -- Free Non-Members -- ¥1,500.
Registration is Closed