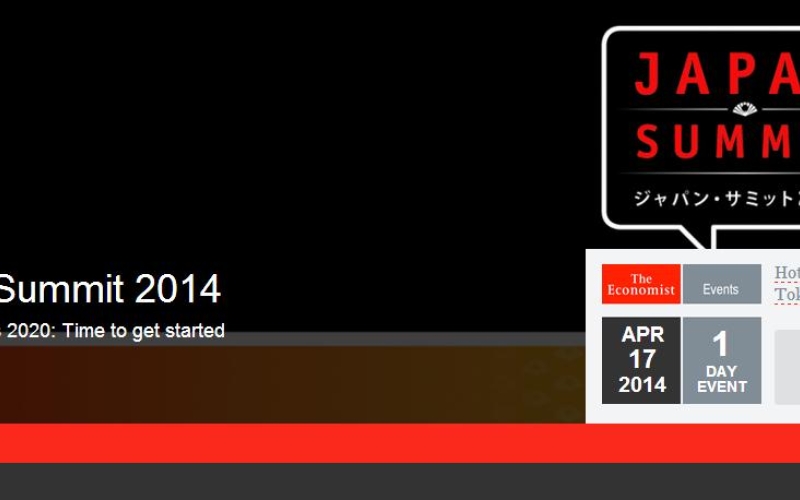 JAPAN TOWARDS 2020: TIME TO GET STARTED
Update: We are pleased to announce that Shinzo Abe, Prime Minister of Japan, will be the keynote speaker.
More than a year now of "Abenomics"—in particular, a radical monetary policy—hints at a new Japan. But doubts remain about whether Shinzo Abe's promises of a new direction will bring lasting and meaningful changes to Japan. He has promised so much, including improving Japan's energy security, refocusing corporate Japan, underwriting innovation, fostering a creative workforce, boosting domestic demand and bringing down the national debt. He proposes, in effect, to rebrand Japan.
That is the spin. It is the purpose of this Summit to match it against reality. Japan Summit 2014 will explore Mr. Abe's and other competing visions for re-energizing the country.  Join us as we hear from  business leaders, policy makers, academics and observers to survey Japan's pressing issues and timely opportunities across its economy, politics and society at Japan Summit 2014, part of the award-winning country summit series from The Economist Events.
Critical Issues to be Discussed are
• Keynote address: Corporate Japan towards 2020
• Japan in the world and in Asia
• Japan's economy: On the up escalator?
• Powering a new energy future? Finding new energy choices
• Japan and foreign affairs: Strained relations
• Corporate Japan: Reviving animal spirits
• Managing people: Land of wasted talent?
For program and speaker updates please visit Japan Summit 2014 website.
To Register:
As with other country summits, we do anticipate this event will sell out. We encourage you to take advantage of 20% discount by registering online. (Select "standard rate" and enter discount code: CCCJ).
We look forward to your participation.
Event Details
April 16 (Wed)

to

April 17 (Thu)


Registration Closed
23:45 ~ 09:45

Hotel Okura Tokyo 2-10-4 Toranomon, Minato-ku Tokyo 105-0001 Japan
176,000 JPY (After 20% discount)
Registration is Closed