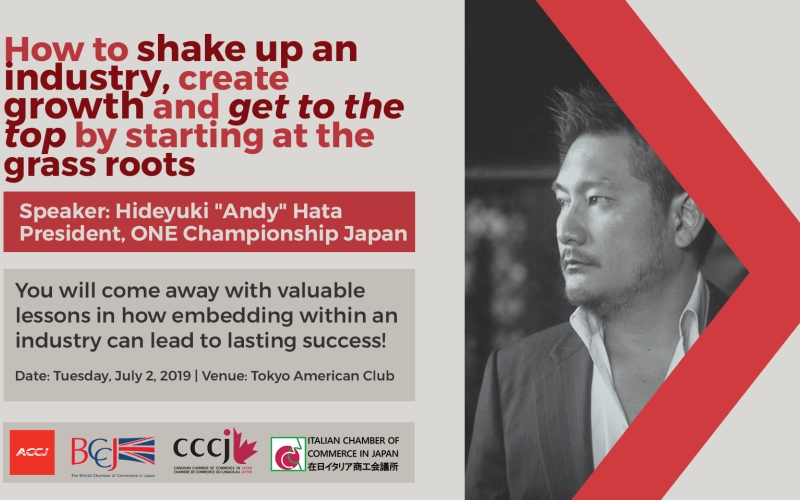 How to shake up an industry, create growth and get to the top by starting at the grass roots, July 2
We are pleased to to be a co-host of the speaker event with ACCJ along with the Italian Chamber of Commerce in Japan and the British Chamber of Commerce in Japan.
Event Overview:
How to shake up an industry, create growth and get to the top by starting at the grass roots.
ONE Championship Japan recently launched one of the most successful sporting events in the world, with a sold out crowd and a record high of 42 million viewers worldwide-- and achieved this within just 3 months. Find out how ONE Championship created such tremendous traction in such a short time not through top-down brand power, but by forming beneficial relationships with partners throughout the industry.
Andy Hata, CEO of ONE Championship Japan, will reveal how he developed the mission, strategy, and execution of this successful event and how this will impact future market expansion and revenue growth plans. You will come away with valuable lessons in how embedding within an industry can lead to lasting success.
About the Speaker:
Hideyuki "Andy" Hata is President of Singapore-based ONE Championship Japan, one of the world's largest martial arts organizations with a global audience spanning 140 countries. Mr. Hata was previously the President of Nielsen Sports, North Asia, where he was responsible for all of Nielsen Sports' business activities in Japan, South Korea, and Mainland China. Prior to that, he spearheaded the global activation strategy for all FIFA tournaments for Sony. Hata is also a recognizable figure and respected voice in the Japanese sports industry, often speaking on television as well as at industry forums and events. 
About One Championship:
ONE Championship, based in Singapore, is one of the world's largest martial arts organization. ONE Championship's global audience spans 140 countries and was recently described by Forbes as "Asia's Largest Sports Media Company." Investors include Sequoia Capital and Temasek (Singapore government fund), and a long list of corporate sponsors such as Disney, Sony, Budweiser, Shiseido, to name just a few. 
Date: Tuesday, July 2, 2019
Time: 12:00 - 14:00
Venue: Tokyo American Club, Manhattan I
Speaker: Hideyuki "Andy" Hata, President, ONE Championship Japan
Hosting Committee: Sales Development, Independent Business
Member Fee: ¥4,300
Non-member Fee: ¥7,700
Meal: Plated Lunch
Registration/Cancellation Deadline: Thursday, June 27, 12:00
If you cancel after the stated deadline, the full meeting fee will be charged to your account. Sorry, no substitutions or walk-ins.
Event Details
July 02 (Tue)


Registration Closed
12:00 ~ 14:00
Venue: Tokyo American Club, Manhattan I
Tokyo American Club, Manhattan I
¥4300 for Members ¥ 7700 for Non-members
Registration is Closed