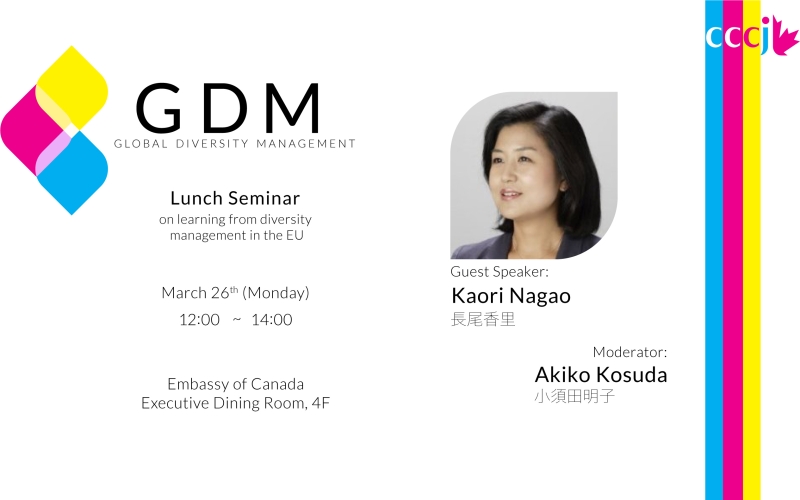 Global Diversity Management Lunch Seminar
We are continuing our series of Global Diversity Management seminars with a lunchtime event on March 26th.
We are thrilled to welcome NHK newscaster Kaori Nagao as our distinguished guest speaker. Because of her extensive experience of studying and working abroad, she is in a key position to help improve understanding of diversity in Japan. After graduating from the London School of Economics in 1994, Ms. Nagao has worked at the NHK for over 20 years, including being NHK's Paris Correspondent between 2004-2007 and the Bureau Chief for NHK Brussels since 2015. This time, Ms. Nagao will be talking about diversity management in the European Union. 
The seminar will be moderated by CCCJ Honorary Adviser, Akiko Kosuda. After Ms. Nagao's talk, there will be an opportunity for group discussion. Lunch and tea will be provided to all attendees. If you have any special dietary requirements, please contact kaisa.saarinen [at] cccj.or.jp.
Event details:
Venue: The Embassy of Canada to Japan, Executive Dining Room (4F)
Date:  March 26th (Monday), 12.00-14.00
Price: 2000 yen for members, 3000 yen for non-members 
**Guests are required to present a government issued photo ID at entrance. A mandatory bag check will also be conducted. 
Event Details
March 26th 2018
Registration Closed
12.00-14.00
Embassy of Canada, Tokyo
Embassy of Canada, Tokyo Executive Dining Room, 4th Floor Akasaka 7-3-38 Minato-ku, Tokyo 107-0052
2000 for Members, 3000 for non-Members
Registration is Closed