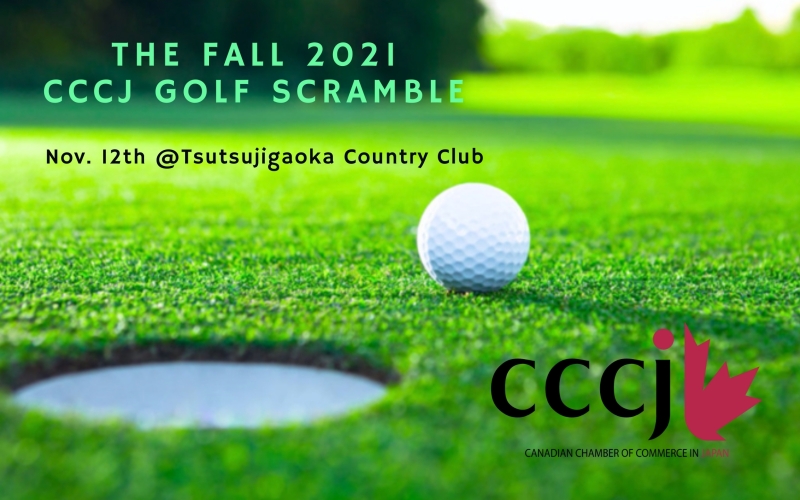 The Fall 2021 CCCJ Golf Scramble
-- Dear Members --
Due to high demand, web registration has now closed. If you wish to register for the Fall Golf Scramble, kindly send an email to info [at] cccj.or.jp. We appreciate your understanding in advance.
Show Us Your Game at the 2021 CCCJ Fall Golf Scramble
On Friday, November 12th, 2021, we're hosting the 21st CCCJ Golf Tournament with an incredible array of prizes!
This is a team event, so even if you're not that great, don't worry! Hit a bad shot? No problem. Just pick up your ball and set it down next to the best shot from your team and play from there.
Golf has never been easier or more fun! You'll hit the best score of your life and have a chance to win some excellent prizes, too!
Teams consist of 4 people, which you can assemble yourself, or allow us to match you with other participants. Following the procedures used last time, to ensure appropriate social distancing and COVID-safety norms are followed, foursomes will be operating for the full-day in pods. From transportation to-and-from, to the round on the course, lunch and the post-tourney bbq, pods will be together and exclusive the whole day.
Package Contents:
Beer and assorted beverages
Green fee
Lunch and dinner (individually plated)
Rare and unique prizes
Cool Prizes:
Prizes will be announced soon, but rest assured: We are arranging some outstanding offerings that will all but guarantee you'll bring your A-game!
And, of course, the legendary CCCJ Trophy, along with the Golden Toque will be awarded to the winning team!
Other Cool Stuff:
And if that's not enough…. every cart will be equipped with a cooler filled with beers (for medicinal purposes only) to heat you up, cool you down or to just for kicking back to enjoy your day in the sun! (We'll also have other drinks for those with more sense;-))
Venue:
For those who prefer public transport, please make your way to Ashikaga-Shi Station, which is the closest station to the course.
There is a direct train from Asakusa Station called the Ryomo Toll Limited Express which takes approximately 90 minutes.
The course is about a 20 minute taxi ride from the station. We can arrange the club bus to pick you up (limited space so first come, first served) or you can take a taxi.
By Car: Closest InterChange is Ota-Kiryu IC on Kita-Kanto Expressway (E50)
By Train:
Tobu Limited Express Ryomo
from Asakusa Station to Ashikaga-shi Station -- From Ashikaga-shi Station, the club shuttle bus will be available. Please advise the Office for the bus reservation.
Tip: From Ashikaga-shi Sta., it takes 20 minutes to get to the golf course by taxi.
Local (Canadian) Rules:
A one stroke penalty for slashing, hooking, or releasing your club in an obnoxious manner.
General Rundown:
Once at the golf course and checked in, we'll gather your team and begin the tournament!
Once all the teams have finished, you'll return to the club house for an amazingly tasty dinner, all prepared in your honour. During the post-game festivities, awards will be announced to winners, as well. 
Time:
0930: Tee time
1200: Lunch
1600: Golfing ends
1700: After Party begins
Teams:
You are welcome to field your own team or join one that needs a player.
Sign up quickly as numbers are limited!
Sponsors:
Event Details
November 12 (Fri) 09:00
〒326-0102 1570 Itakura-cho, Ashikaga-shi, Tochigi
〒326-0102 栃木県足利市板倉町1570
☎️ 0284-64-0007
        
¥22,000 for members / ¥25,000 for non-members
Event Details
November 12 (Fri)


Registration Closed
09:00 ~ 19:30
Member -- 22,000 yen, Non-member -- 25,000 yen
Registration is Closed