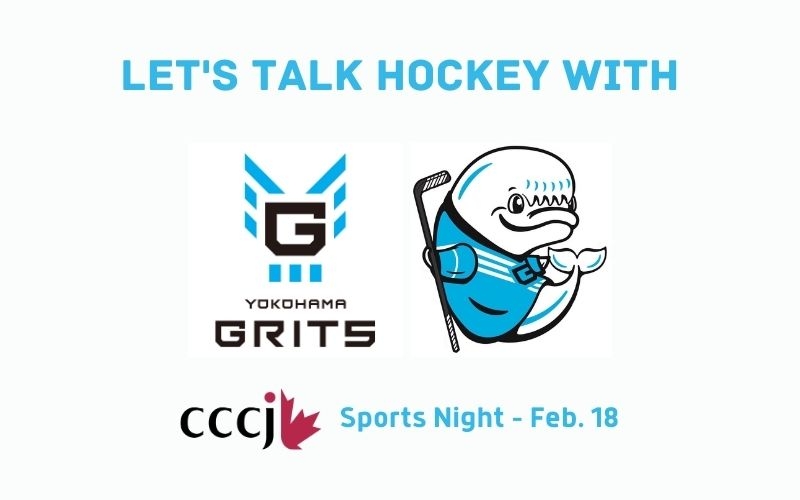 CCCJ Sports Night: Let's Talk Hockey with the Yokohama Grits
Join the CCCJ for a lively online discussion about hockey with Yokohama Grits head coach Mike Kennedy, GM Takashi Mikoshiba and Yokohama Grits hockey players. 
Coach Mike is a Canadian and former NHL player who you may remember from his time playing for the Dallas Stars, the Toronto Maple Leafs and the New York Islanders. He is the author of a book on youth hockey coaching, Make Hockey Great Again: Hockey for the 21st Century - A Paradigm Shift. 
Takashi Mikoshiba used to live in Vancouver Canada during the late 1980s and fell in love with ice hockey. He co-founded GRITS in 2019, and oversees team operations as well as sponsorship initiatives. At the same time, he works as a Talent Officer within a global venture capital firm.
Date: Thursday, February 18th 18:30 - 20:00 (Zoom)
Moderators: CCCJ Governors Aaron Reist and David Anderson
Fee: Free for members, ¥1200 for non-members
Schedule:                               
18:30 Intro to the Yokohama Grits and Asia League Ice Hockey
18:45 Mission and community involvement
19:15 Yokohama Grits schedules and how to get tickets
19:30 Beer and hockey chat
Event Details
February 18 (Thu)


Registration Closed
18:30 ~ 20:00
Registration is Closed