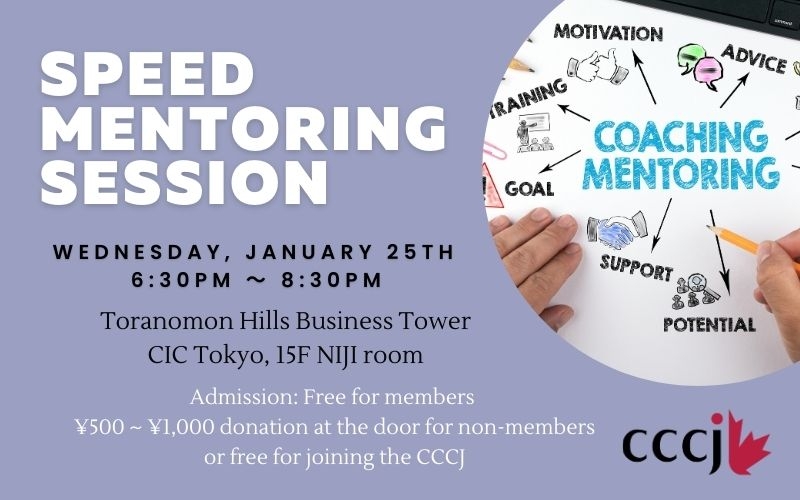 CCCJ Speed Mentoring Session
As its name suggests, Speed Mentoring is a mentoring version of 'Speed Dating'. This event is organized by the Education Committee for the purpose of offering career mentoring by experienced industry leaders of the CCCJ to university students or young professionals with 3 key goals:
to support the development of future leaders: build professional networks and business acumen
to learn from one another by sharing and discussing experiences
to promote, facilitate, and strengthen Canada-Japan relations. 
Whether you are looking at job or career options or interested in transforming a career, this Speed Mentoring Session will be a great opportunity to help create connections and pathways to success! 
Date: Wednesday, January 25th, 2023
Time: 6:30PM - 8:30PM
Location: Toranomon Hills Business Tower, CIC Tokyo (Map) "NIJI" room on the 15th floor
Admission: Free for members
                   ¥500 - ¥1,000 donation at the door for non-members or free for joining the CCCJ 
Details: Each mentoring round will be 20 minutes long per mentor with a maximum of 3 mentees. Students/Young Professionals should prepare 3 questions they would like to ask the mentors and submit to the Google Form that will be sent to parcipicants after registration. These questions should be sent by 5pm on Tuesday, January 24th. 
The event will be moderated by Riyo Whitney, a Governor and Head of the CCCJ Education Committee, Principal of Ontario Virtual School (OVS) Japan, and Entrepreneur at ManabiTabi Educational Services and Izu Beach House.
The 3 mentors are the members of the CCCJ:
Karl Pires, a Governor and Corporate Secretary of the CCCJ, is a Local Partner heading the Japan M&A Practice at Shearman & Sterling LLP, an international law firm with 26 offices globally including in Canada and Japan. He has 22 years experience as a lawyer in Vancouver (8 years) and Tokyo (14 years) and is also an adjunct professor at Keio University Law School since 2014, teaching comparative corporate and finance law. 
Nicolas Chow Ching Sung, a Governor and Chair of the CCCJ Emerging Technologies Committee, is a Head of Engineering at Telexistence Inc., leading its development team to design, build and implement humanoid robots as remote avatars for their augmented workforce concept. He is also a mentor at high school robotics program and the board of the McGill Alumni Association in Japan. 
Joey Wu, Chair of the CCCJ Wellness Committee, is the Head of Japan Communications, Marketing & Corporate Affairs at Bank of America, responsible for media relations, executive communications, marketing and events for all of the bank's businesses in Japan. She was also the Executive Director of Corporate Communications at Nomura, where she spent over 12 years in various leadership roles across marketing and communications.
Event Details
January 25 (Wed)


Registration Closed
18:30 ~ 20:30
Members -- Free. Non-members -- ¥500~¥1,000 donation at the session, or join the CCCJ
Registration is Closed