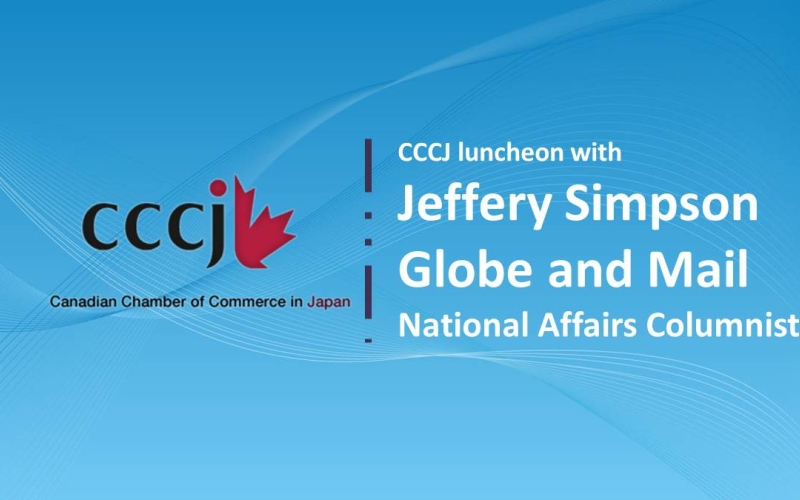 CCCJ Luncheon with Jeffery Simpson, national affairs columnist at the Globe and Mail
CCCJ Luncheon with Jeffery Simpson, national affairs columnist at the Globe and Mail
The CCCJ is pleased to announce a special luncheon event with Jeffery Simpson – Globe and Mail National Affairs Columnist – to be held on April 16th at the Roppongi Hills Club.
Mr. Simpson is a prized Canadian writer, having won the Governor-General's award for non-fiction book writing, the National Magazine Award for political writing, and the National Newspaper Award for column writing (twice). He has also won the Hyman Solomon Award for excellence in public policy journalism. In January, 2000, he became an Officer of the Order of Canada. At the introduction of Ambassador Sadaaki Numata, Chairman, Honorary Board of Advisors, CCCJ, Mr. Simpson has agreed to meet with members of the CCCJ to speak on Canada's forthcoming election and its trade, energy and foreign policy implications.
This luncheon comes at an interesting time for Canada, as the country moves towards its 42nd general election, to elect members to the House of Commons which is scheduled to occur on October 19, 2015.
Luncheon event details:
Date: April 16, 2015
Venue: Roppongi Hills Club
Time: 12:30 to 14:30
Cost (JPY): 5,000/person 
CCCJ 主催ランチョン:カナダの最も著名なコラムニスト、Jeffery Simpsonによる講演午餐会
CCCJ主催「グローブ・アンド・メール」紙内政担当コラムニスト、ジェフリー・シンプソン氏による特別な講演午餐会が、4月16日、六本木ヒルズクラブにて開催されます。シンプソン氏は、受賞経験のあるカナダの有名著者であり、過去には、ノンフィクション部門における「カナダ総督賞」と政治に関する文章の部門における「全米雑誌賞」を獲得し、コラム作品部門においては「全米新聞賞」を二度受賞しました。また、シンプソン氏は、共政策ジャーナリズムにおける優秀さにおいて、「ハイム・ソロモン賞」も受賞しました。2000年1月には、シンプソン氏へ、国から「カナダ勲章」が与えられ、オフィサーの階級が授与されました。そして、この度は、沼田貞昭 在日カナダ商工会議所名誉顧問会長(元駐カナダ日本大使)の紹介により、シンプソン氏は、CCCJ会員の為に、今後のカナダ選挙と貿易、エネルギー、外交政策について演説をしてくださる事を承諾してくださいました。カナダは、外院メンバーを選ぶ為に行われる、第42回目カナダ総選挙を2015年10月19日に控えており、カナダにとって大変興味深い、この時に、このランチョンは行われます。是非、この特別な機会に、私共のイベントにご参加してくださるようお願い申し上げます。何卒宜しくお願い申し上げます。
昼食の詳細
• 開催日:2015年4月16日
• 会場: 六本木ヒルズクラブ
• 時間: 午後12:30から14:30時まで
• 参加費(日本円): 5,000円/一名様 (ビッフェスタイルお食事付き)
Profile (Globe and Mail Author Profile):
Born in New York, Jeffrey came to Canada when he was 10 years old and studied at the University of Toronto Schools, Queen's University and the London School of Economics. In 1972-73, he received a parliamentary internship scholarship in Ottawa. A year later, he joined The Globe and Mail.
His career with the newspaper began at City Hall in Toronto and with coverage of Quebec politics. In 1977, he became a member of the paper's Ottawa bureau, and 18 months later he was named The Globe and Mail's Ottawa bureau chief. From 1981-1983, Jeffrey served as The Globe's European correspondent based in London, England. He began writing his national affairs column in January, 1984.
Jeffrey has published eight books -- including Discipline of Power (1980); Spoils of Power (1988); Faultlines, Struggling for a Canadian Vision (1993); The Anxious Years (1996); Star-Spangled Canadians (2000); The Friendly Dictatorship: Reflections on Canadian Democracy (2001); and Hot Air: Meeting Canada's Climate Change Challenge (2007). His latest book, published in 2012, is Chronic Condition, Why Canada's Health-Care System Needs to be Dragged into the twenty-First Century, which won the $50,000 Donner Prize for the best book on Canadian public policy.
He has written numerous magazine articles for such publications as Saturday Night, The Report on Business Magazine, The Journal of Canadian Studies, The Queen's Quarterly. He has spoken at dozens of major conferences here and abroad on a variety of domestic and international issues. He has also been a regular contributor to television programs in both English and French and completed a two-hour documentary for CBC to accompany his book, Star-Spangled Canadians. He has been a guest lecturer at such universities as Oxford, Edinburgh, Harvard, Princeton, Brigham Young, Johns Hopkins, Maine, California plus more than a dozen universities in Canada.
In 1993-1994, Jeffrey was on leave from his column as a John S. Knight fellow at Stanford University in Palo Alto, California. He has been a Skelton-Clark fellow and Brockington Visitor at Queen's University. He has also been a John V. Clyne fellow at the University of British Columbia, a Distinguished Visitor at the University of Alberta and a member of the Georgetown University Leadership Seminar. He has been awarded honorary doctorates of laws from the University of British Columbia, the University of Western Ontario, the University of Manitoba, l'université de Moncton, Queen's University, the University of Windsor and the University of King's College.
Jeffrey has been a member of the board of trustees at Queen's University; the board of overseers at Green College, University of British Columbia; the advisory councils of the Robarts Medical Research Institute and the Richard Ivey School of Business at the University of Western Ontario, and the editorial board of The Queen's Quarterly. He has been vice-chairman of the City of Ottawa Library Board and was awarded the William Watkinson Award for outstanding contributions to the Canadian Library community.
Jeffrey has taught as an adjunct professor at the Queen's Institute of Policy Studies and The University of Ottawa Law School. He is now senior fellow at the University of Ottawa's Graduate School of Public and International Affairs.
Jeffrey was a juror for the Charles Taylor Prize for non-fiction books in 2008 and for the Cundill prize for history in 2011. He is also a member of the Trilateral Commission.
He lives in Ottawa with his wife Wendy. They have three children. 
***
Please take a minute and like the CCCJ on our Youtube, LinkedIn, Facebook and Twitter accounts
Event Details
April 16 (Thu)


Registration Closed
03:30 ~ 05:30
Roppongi Hills Club
Roppongi Hills Club 51 fl. Roppongi Hills Mori Tower, 6-10-1 Roppongi, Minato-ku, Tokyo 106-6151
5,000
Registration is Closed