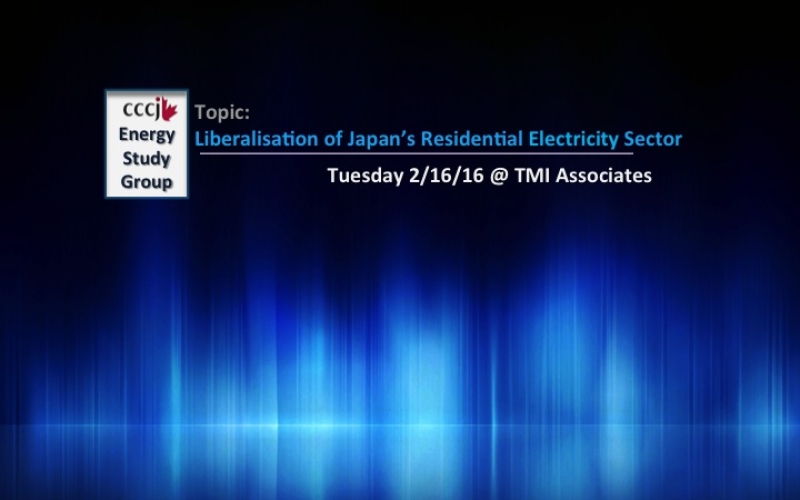 CCCJ Energy Study Group
Topic: Liberalisation of Japan's Residential Electricity Sector
Japan is just about to liberalise its residential electricity sector, effectively breaking TEPCO and the other regional utilities' monopoly in the sector. The expected result of this policy change is that competition will bring down prices and improve services for the end users.
The new policy has the potential to change the Japanese energy landscape, and a significant industry shift is already happening with over 60 companies registered to enter the residential market by now. This is also opening a myriad of opportunities for entrepreneurs looking to supply all these new and existing market entrants with technology solutions and services.
Our upcoming session will be moderated by CCCJ Governor, Mr. Stephane Beaulieu, Co-Chair of the CCCJ Committee on Energy. The sessions will consist of a short presentation on the topic, followed by a Q & A/discussion period. Mr. Kentaro Kubo –  a TMI lawyer who has considerable knowledge on the legal framework allowing this policy change and also is one of the foremost experts on the legal aspects of this new sector – is keen to share his knowledge with interested industry people at this "Energy Benkyoukai". See more information about Mr. Kubo at: http://www.tmi.gr.jp/english/staff/k_kubo.html
Event Details:
Program: Presentation (20 minutes), q&a/discussion (40 minutes), casual networking (20 minutes)
Speaker profile: Kentaro Kubo

(profile)

Moderator profile: Stephane Beaulieu

(profile)

Registration, please fill out the following 

registration form

Registration deadline: February 12th, 2016
Ticket stock: 20
This event is open to media
Please join us in what promises to be a very engaging and timely discussion. 
The CCCJ would like to extend its thanks to TMI Associates for their sponsorship of this event.
(日本語)
CCCJ エネルギー勉強会
トピック:家庭向けの電力小売部門の全面自由化
 
近日、日本の一般家庭向けの電気の小売販売が全面自由化されます。これに伴い、各地域の電力会社(東京電力等)が独占的に行っていた家庭向けの電気の小売販売へ他の小売電気事業者が新規参入出来るようになります。この政策転換は、競争による電気代の削減が結果的に利用者へのサービス向上化に繋がる事を期待して行われています。本改正は、日本のエネルギー界のビジネスの在り方を変える可能性があり、既に60社以上の企業が家庭向け市場への参入を表明しており産業は重要な転機を迎えています。また、従来の市場参加者と市場に入った新加入者へのテクノロジー・ソリューションやサービス供給の機会を求める企業家にも無数のビジネスチャンスをもたらすことになります。
この勉強会の司会は、在日カナダ商工会議所理事権エネルギー委員会長のステファン・ボリューが務めさせていただき、久保賢太郎弁護士による課題に関する短いプレゼンテーション、Q & Aとディスカッションの機会が設けられます。 TMI総合法律事務所所属の久保賢太郎弁護士は、この政策転換に関した法制度について深い知見を有しており、電力を始めとしたエネルギービジネスに関するアドバイスを行っている弁護士です。今回,在日カナダ商工会議所が主催するエネルギー勉強会にて特別にお話をしてくださいます。
イベント詳細:
開催日: 2016年2月16日
時間: 15:30-17:00 (15:15から入室可能)
場所:

TMI総合法律事務所 (六本木ヒルズ森タワー22階)

プログラム: プレゼンテーション (20分), Q&A/ ディスカッション (40分), ネットワーキング (20分)
演説者: 久保賢太郎 (

経歴

)
司会者: ステファン ボリュー(

経歴

)
お申込をご希望の方は、お手数ですが、

こちらから

お申込ください。何卒宜しくお願い申し上げます
お申込期日: 2016年2月12日
チケット数: 20
当日はマスコミの取材等が入る場合がございます
多くの皆様のご参加をお待ちしております。
この行事スポンサーのTMI総合法律事務所へこの場をお借りして厚く御礼申し上げます。
***
Please take a minute and download our digital app, The Canadian and like us on our Youtube, LinkedIn, Facebook and Twitter accounts
Event Details
February 16th, 2016
Registration Closed
15:30-17:00
TMI Associates Tokyo Office
TMI Associates Tokyo Office - Room 2206 22rd Floor, Roppongi Hills Mori Tower, 6-10-1 Roppongi, Minato-ku, Tokyo 106-6123, Japan
complimentary thanks to our generous sponsor, CCCJ Corporate Member TMI Associates
Registration is Closed