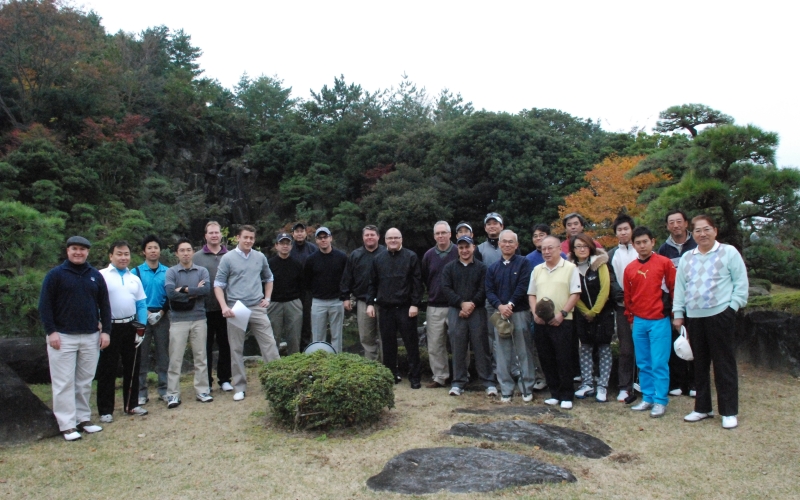 CCCJ 13th Annual Golf Tournament
ATTENTION TO ATTENDEES: BUS PICK UP WILL BE AT 6:15AM AT THE CANADIAN EMBASSY NEAR AOYAMA ITCHOME STATION FRIDAY MORNING. PLEASE NOTIFY DAVID ANDERSON AT david.anderson [at] cccj.or.jp IF YOU ARE TAKING THE BUS.
With the weather warming and the grass greening it's a fine time to dust off the golf clubs and start preparing for the CCCJ 13th Annual Golf Tournament!
This year's tournament will take place at the beautiful Tsutsujigaoka Golf Course in Tochigi Prefecture on Friday, May 24th. The tournament will feature a round over 18 pristine holes, lunch, beverages and a post-round after-party with a number of great prizes. 
Mark your calendars, contact your guests and get practicing for one of the most enjoyable CCCJ events of the year! 
About the Course:
Tsutsujigaoka Country Club is located in the city of Ashikaga, which is known historically as the Eastern 'Little Kyoto' for its cultural, religious and architectural heritage. Just 78km from Tokyo, the club can be reached in 90 minutes from central Tokyo, and is located 10 minutes from the Oota Kiryu inter-change.
The course, an 18-hole, 6,670-yard par-72, was designed by Mr. Katsumi Takizawa and built in 1991. The course layout is as unique as it is timeless, but most of all it is extremely fun to play, particularly the greens, which are quite large, quick but true. There is clever use of the beautiful local landscape, and maximizing on the many picture postcard views of the surrounding mountains.  The 'Tsutsuji' in Tsutsujigaoka means Azalea, and the club certainly lives up to that name with over 30 varieties on the course, one particular planting is over 300 years old.
The newly refurbished clubhouse wins all its visitors over, the main building itself having won a Japanese architectural culture award, boasts a huge open plan reception area. The members Salon features relaxation room, Japanese Tea room and various reception areas. The restaurant offers a welcome reprieve with its bright and modern styling, overlooking a beautiful Japanese garden, pond and breathtaking waterfall. 
The CCCJ would like to express special thanks to new CCCJ Member and Grand Sponsor of the tournament: Southwestern Ontario Marketing Alliance (SOMA). 
GRAND SPONSOR
Event Details
May 23 (Thu)


Registration Closed
21:30

Tsutsujigaoka Country Club - Tochigi Prefecture BUS PICKUP AT CANADIAN EMBASSY AT AOYAMA ITCHOME 6:15 AM FRIDAY MORNING.
24000
Registration is Closed