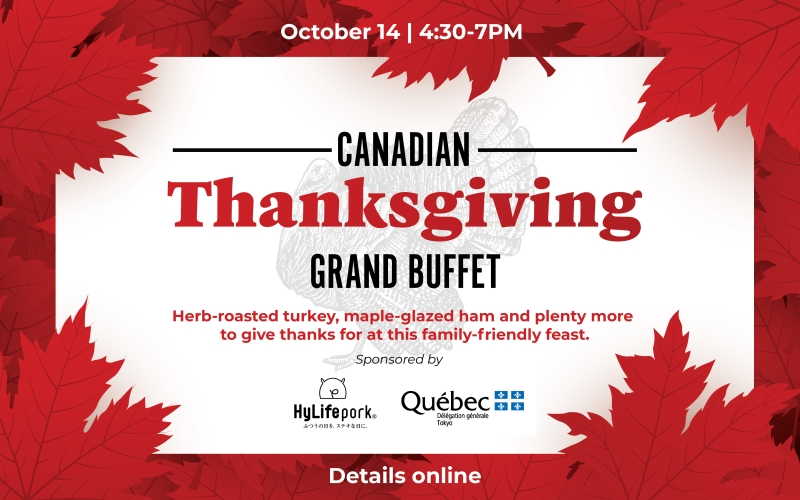 Canadian Thanksgiving Grand Buffet at Tokyo American Club
Thanksgiving is just around the corner, and the Tokyo American Club is hosting a Canadian Thanksgiving dinner party on October 14, and CCCJ members are cordially invited to attend!
Be merry and give thanks at this all-ages buffet filled with hearty Canadian favorites!
Much like their neighbors to the south, come with friends and family and get ready to load your plate like a Canadian with an expansive spread of herb-roasted turkey, maple-glazed ham, crispy duck confit, chilled Canadian bacon, leek quiche, smoked duck and much more! And that doesn't even get us started on the dessert menu!
Whether you're a born-and-bred Canadian or just want to eat like one for a day, the Club has you covered at this family-friendly grand buffet event!
---
Details
Adults (buffet only): ¥6,000
Adults (buffet + 2-hour, all-you-can-drink): ¥8,000
Juniors (12–17 years): ¥4,000
Kids (4–11 years): ¥2,000
Infants (3 & under): free!
*Photographs or video may be taken at this event for use in Club media*
Please note that prices do not include 10% consumption tax.
This invitation is only extended to CCCJ members ONLY
Contact banquet [at] tac-club.org or 03-4588-0308 for reservations.
Event Details
October 14 (Mon)


Registration Closed
16:30 ~ 19:00
Tokyo American Club
Tokyo American Club, New York Ballroom 2 Chome-1-2 Azabudai, Minato, Tokyo 106-0041
Adults (buffet only): ¥6,000 Adults (buffet + two-hour, all-you-can-drink beverage package for 20 years & above): ¥8,000 Juniors (12–17 years): ¥4,000 Kids: (4–11 years): ¥2,000 Infants (3 & under): free
Registration is Closed